Draven wrote:
The question I have for you is Giant Blade vs Sword of Hoeth? I know you said that you wanted the +3 STR so you can reliably wound very Tough units. Well, for the same point cost would SoH with auto Wounds be better?
This question has actually cropped up a few times earlier in the thread but, in brief, the Sword of Hoeth doesn't have any armour-penetration value, so it'll be useful against a far smaller selection of troops than the Giant Blade, which hurts tough
and
heavily armoured units.
BorkBork,
I have! You've found my early comments on shooty Empire and Orcs, but I've also played Dwarfs successfully. This was pre-thread but the principles of deployment I used against them are recorded under the section titled "Against Refused Flanks". Check the List of Contents on page 1 and you'll find it.
Your question is well-timed, however, since my game against Chaos Warriors, for which I showed up on Monday, actually turned out to be a game against a very shooty Empire list (Warriors guy had dropped out and this guy, who runs the club, had temporarily taken his place).
Mini-Report - 2500 High Elves vs 2250 Empire
It wasn't a particularly fair fight, since I was expecting a pumped-up Warriors player who'd accrued plenty of territories since the campaign started: I'd spent about 135 extra gold on top of my usual list. My opponent, however, only had a 2250 Empire list. Partly this was because he felt I'd been ambushed by the change of armies (people are allowed to tailor against their opponent in this campaign- seen as a valuable tool), but also because his models weren't based (the rules on fully painting your armies are strict here!).
Anyway, his list was roughly thus:
Empire General- +2 Str Weapon, Armour of Meteoric Iron, 4+ Ward
BSB- Stuff
Lvl 4 Death Wizard- 4+ Ward, Feedback Scroll
Lvl 2 Light Wizard- Stuff
3 Engineers: Hochland long rifles
38 Halberdiers- Full Command (General + BSB)
10 Detachment Handgunners
10 detachment Handgunners
40 Halberdiers- Full Command
10 Detachment Handgunners
10 detachment Handgunners
3 Mortars (Engineers)
3 Cannons
Not massive, then, but certainly a gunline. I had:
Seredain
Prince - Barded Steed, Dragon Armour, Shield, Giant Blade, Helm of Fortune, Plucker Pendant, Talisman of Loec - 286
Lecalion
Level 4 Archmage - Dispel Scroll, Lore of Life - 280
Caradath
Battle Standard Bearer - Barded Steed, Great Weapon, Heavy Armour, Shield, Dragonhelm, Dawnstone - 175
35 Spearelves - Full Command, Gleaming Pennant - 345
14 Archers - Musician - 159
14 Archers - Musician - 159
14 Swordmasters - Bladelord, Standard, Banner of Sorcery - 284
12 White Lions - Full Command, Banner of Eternal Flame, Gem of Courage - 230
8 Silver Helms - Musician, Shields - 192
5 Dragon Princes - 150
1 Tiranoc Chariot - 85
2 RBTs - 200
2 Eagles - 100
Spells: He rolled Doom and Darkness, Fate of Bjuna, the Signature Spell, something else and, for Light, the signature spell and Net of Amyntok (no idea how to spell that...).
I got Dwellers Below, Regrowth, Flesh to Stone and Throne of Vines.
The Plan
I'll cover what happened only briefly, since it wasn't really a fair fight (and I have a train to catch for a holiday). I will say that deployment was a rather easy phase for me, since the whole Empire army was deployed on the table in very few drops. I was therefore able to plan
exactly
how to take it out. This is, I suspect, a major weakness in any army which has both big blocks and lots of points invested in war machines which, of course, deploy all at the same time. My opponent got a hill for his machines and put them all up there. I deployed some early fast units in a way which suggested I was planning to rush the guns. To counter this, my opponent shoved his halberdier blocks to either side. I chose the one with the general in it and arrayed all of my main attacking units opposite and outside of it. The other halberd block I'd simply hold up with archers and failed charges until I'd killed the general and overrun into the gunline.
My silver helms were deployed on the far right for 3 reasons:
1- There was a building there, so they couldn't be cannoned on Turn 1.
2- They were further away from the Empire troops but, with their faster movement, they would be threatening charges on the same turn as my infantry. This would make target selection difficult for my opponent.
3- The Empire gunline up on the hill was so long that plenty of them on the far side wouldn't be able to see the knights as they moved up the far flank.
4- When I hit the flank of the Empire, I'd overrun along it rather than off the board.
5- The Death Wizard Lord was on the far flank. My prince would therefore start way out of range of all his spells and, once he got within range, he'd be in combat and therefore immune from the direct damage spells. Nice.
The board looked like this:
Right Flank
Left Flank
In short, I threw my small fast units in the centre (eagles, chariot, dragon princes) to be shot while my attacking flank moved up to overwhelm the Empire general and his halberds. He shot plenty of them (particularly the spears), but my repeated casts of Dwellers crippled his main unit and, by the time my elites got there, there was actually very little to fight (what was left could have easily handled another 250 points of troops!) It went like this: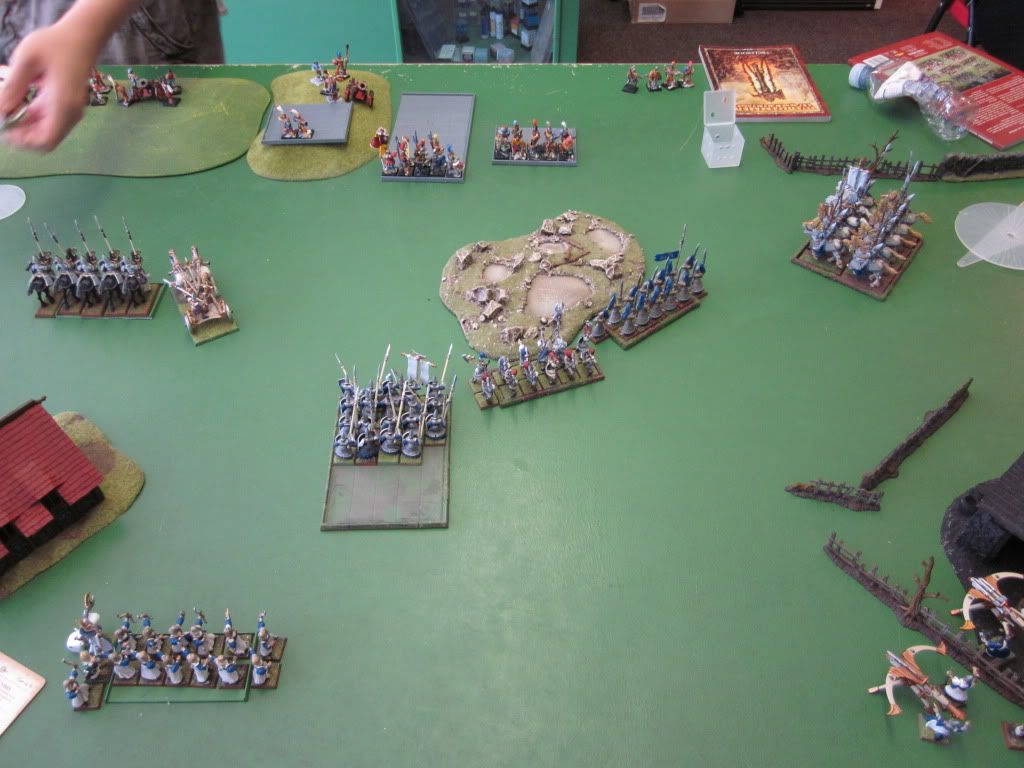 End of Turn 2. The Empire machines really struggled to hit the small elite units on Turn 1 (even with the engineers' re-rolls), gave up and started pounding the spears. A few then misfired before two mortars landed super-accurate shells on the head of my general and... I passed by my
Look Out Sir!
rolls. At this stage I have my units surrounding his general at average charge range (for M5 troops), hoping to encourage a failed charge from him which I can counter-attack. Frankly, my success with Dwellers had made this level of planning unnecessary, but I feel confident that I could have handled plenty more troops with this set-up.
Turn 2 Left Flank: Archers annihilate a detachment of gunners before moving up to threaten the solo Level 4. They and the repeaters bring him down to only 1 wound after two rounds of shooting: his LOS and ward saves were amazing! The middle (blue) archers nailed the Lvl 2 wizard on Turn 1, though. That was ace.
Turn 3 Combat Phase. His general tried (and failed) a charge against my chariot (which fled), allowing my white lions a flank charge. I threw Throne up and then Flesh to Stone on the Lions. His characters could manage no wounds against my T7 elites and the remaining imperial troops were run down with ease. My knights and swords (depleted a little now) begin the overrun of the long back line.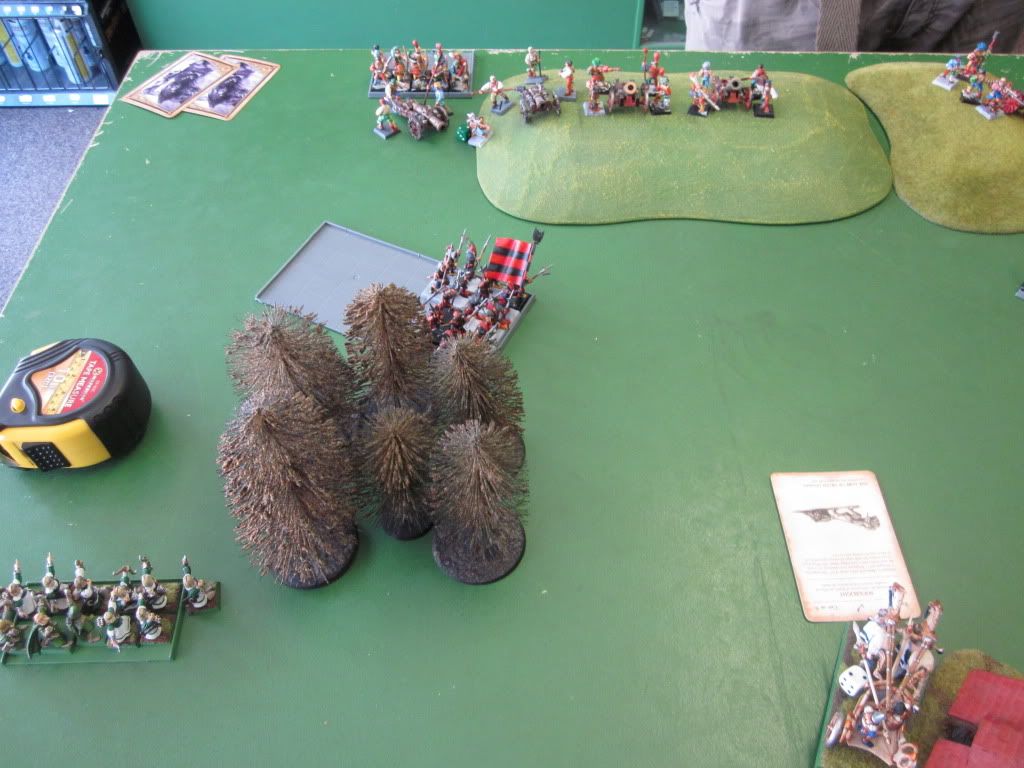 Turn 3 Left Flank: The halberdier block is pulled into a failed charge by the dragon princes (who were threatening a charge on the guns), slowing their advance to support the far flank. By the end of my turn, Dwellers and missile fire had really taken their toll.
Turn 4: As the White Lions carve through the artillery line (they were better placed), my other units surround the last halberdier block. My spears are suffering from shooting at this point.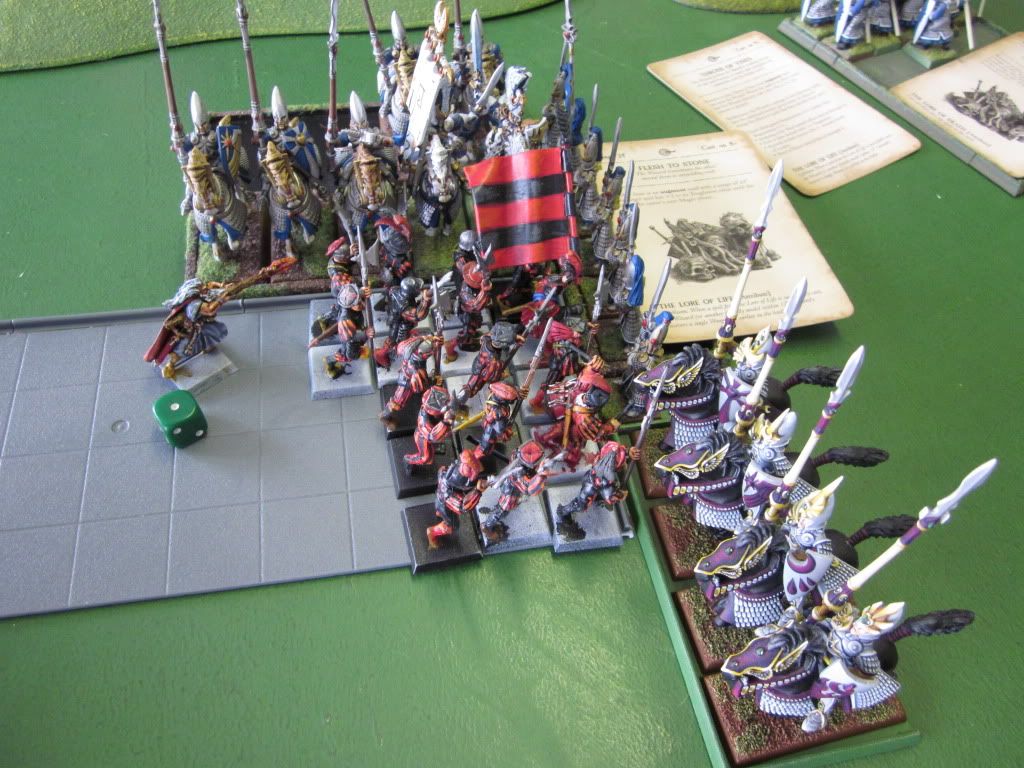 A combo-charge from my cavalry and swordmasters wipes out all the Empire troops...
...before the knights overrun into the Wizard Lord (who needed to stay close to the halberds or be shot to death) and kill him. Annoyingly, this wasn't before he miscast and blew a whole in both my units. Bastard.
The End Game: Seredain and Caradath charge out of the helms to join the lions in finishing the last cannon and handgunner detachment (which had panicked earlier and rallied behind). The Empire army is tabled.
Lessons Learned
350 points-odd makes a lot of difference! Having said that, I deployed and concentrated my forces well enough to feel safe that I would have crushed the Empire's left flank even if he'd had twice the number of infantry. All my elites made it through at fighting strength and, with Dwellers going off (3 times this battle), the big blocks were in trouble.
Shooting: his list showed the risk of spending that many points on guns that scatter, blow up etc. The engineers especially were a ton of points that, in the end, achieved little. All of my units were damaged by game's end (none of them killed in combat), but none were destroyed. Against high leadership elves, the Empire needed some decent combat units to drive the damaged units off completely and pick up the points. I did lose my eagles, but that wasn't a biggy.
Armour: a decent armour save
really
helps against mortars. My knights and lions all made it into combat relatively unscathed.
Flesh to Stone: an excellent spell which found its usual perfect role in protection my small elite units- saving the swordmasters from shooting (Turn 1) and the lions from combat (Turn 3). With Dwellers being chucked about, my opponent was unwilling to throw all his dispel dice to stop it, so it proved incredibly useful. Excellent.
The Campaign
Another 5-point win sees me hold this empire, after two mine explosions and one defeat-by-absence.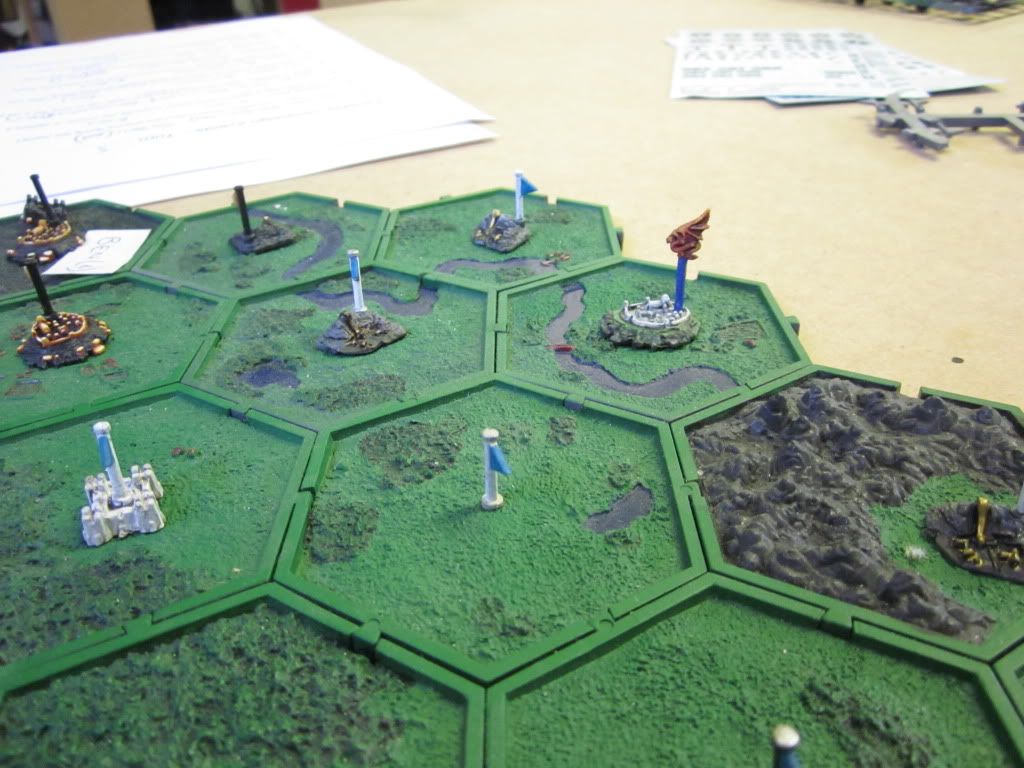 Here you see my two river mines, mountain mine and other territories with blue flags, including a fortress and my capitol. In the distance are some Tomb Kings territories (formerly the Daemons I beat but the guy changed armies).
In other news, on a neighbouring table was a big Watchtower struggle going on between Lizardmen and horde Daemons (with Masque, Anti-leadership bomb BSB, 2 Tzeeentch spellcasters and a bus of 8 Juggernauts). The daemons absolutely steamrolled the Lizard blocks in combat before the stegadon managed to stomp a block to death. The stars of the show, however, were the Razordons, who (with magic), cleared out the daemon unit occupying the tower (19 Bloodletters with BSB), and then, amazingly, wiped out all of the 5 remaining juggernauts (of starting unit of
, with their
stand and shoot
charge reaction. These were pulled down by the Masque and, by the end of the battle, the Daemons had one of the big blocks and the Masque left, as against only two units of 12 skink skirmishers. One of them took the tower (slaying a Tzeentch herald) and only had to hold against the bloodletters' assault to win the game. After the Masque's nerf, the whole game came down to a steadfast leadership test, with cold blooded, at leadership 5. The remaining 4 skinks passed, held the tower and then the game ended, winning it for the Lizards.
Haha. Silly game.
I took a few pics FYI.
All the bloodletters! 19+ BSB started the game occupying the tower.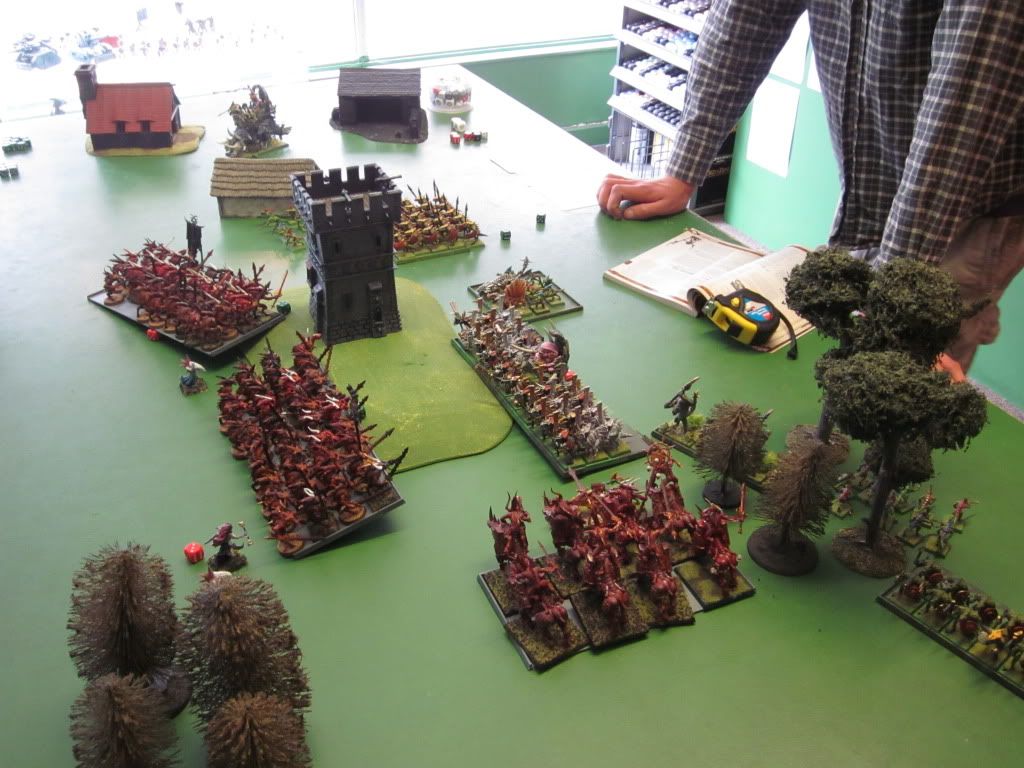 This flank-attack was devastating. The Temple Guard just melted.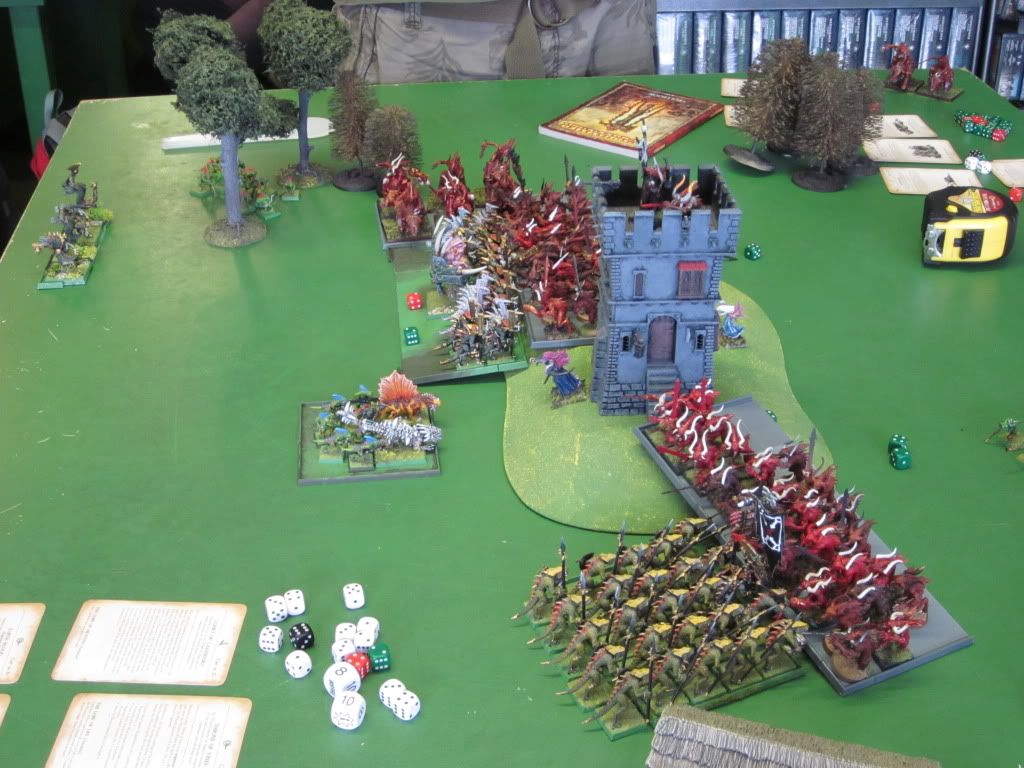 The saurus spears did better but the leadership-bomb in the tower made them run and they were cut down.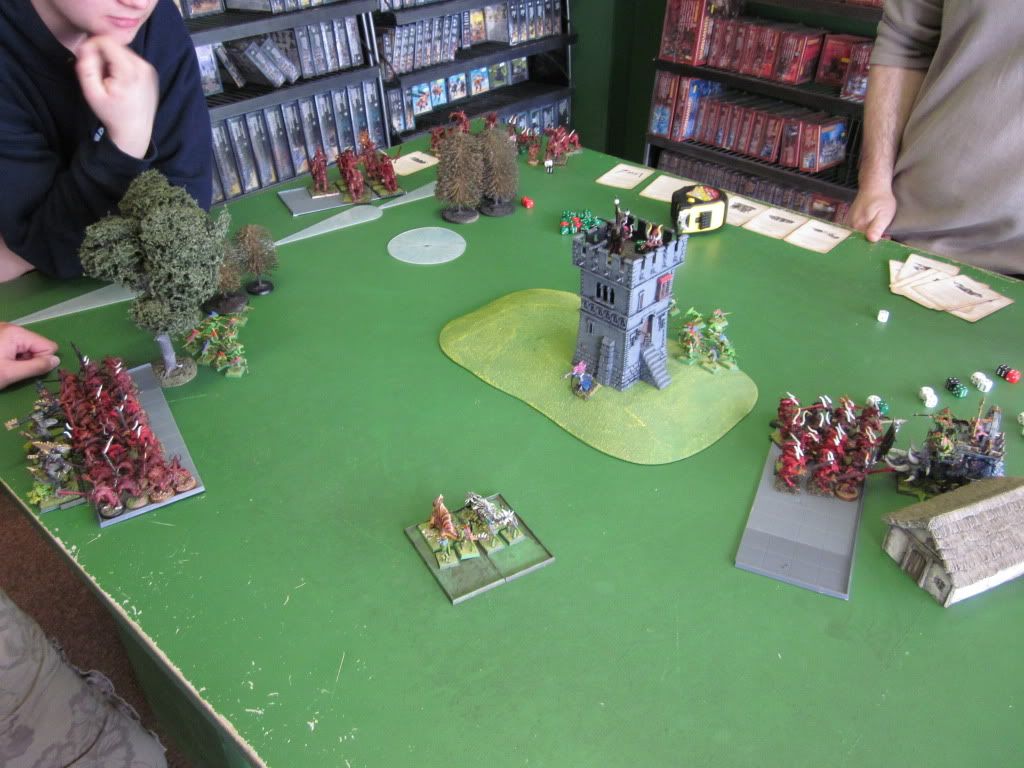 A countering flank-attack from the stegadon managed to grind the daemons down, but he was eventually brought down by Death magic. The Lizards didn't play to hold up the big daemon block well, allowing it to assault the tower, but some skinks took the Tower first on Turn 6 and managed to hold it against overwhelming odds.
So, I'm off on holiday now. Again! If anyone has any questions, please feel free to throw them down here and I'll try and answer them when I'm back in a couple of weeks. In the meantime, peace!