Use eagles to re-direct his major deathstar out of line or slow them to a crawl. Here are some pictures. Briefly, this works like this:
Place your eagle 1" away from his deathstar and angle him horizontally. Be sure that your eagle's frontal arc covers more than 50% of his front rank, that way, if his ogres charge, it is a frontal charge (since side that you charge is based upon the reference frame of the chargee, not the charger, so as long as your eagle sees 50% of his front rank in his frontal zone, his ogres must charge the front). Good placement leads to a formation like this: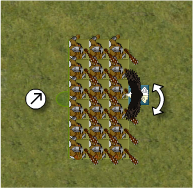 Now, when he kills the eagle, he either runs horizontally across the board, OR he can reform, in which case he has moved exactly 1" forward. The rest of his line is forced to either slow and wait, as you pummel him with arrows, or advance without them, in which case his remaining units become easy to overcome. Be sure you do this on his more dangerous deathstar (the one that has his tyrant, and his BSB if one like that exists), rather than trying to hold up both. Basically, the point of this is to force him to send his forces towards you one unit at a time, in which case you can easily destroy one. This only works, of course, if you actually kill the unit that hits your lines first quickly, so make sure you only do this with one of his deathstars. 2 eagles should do the trick, and should have his deathstar crawling across the board for 2 turns (and it usually takes 2 turns for an ogre army to reach your lines, so you would have 4 full combat phases to deal with his un-slowed ogre blocks before his most dangerous unit hits your infantry).
I would also take archers and maybe an RBT or 2 to eliminate his skirmishers/scraplaunchers and after target his bulls. Bulls are only T4 with no armor, so withering on them makes your archers deadly. Definitely take a LV 4 archmage with silver wand and take shadow. Pit is deadly on his ogres that have very low I, and his bulls are sitting ducks if you wither them (making them T3 or below, or in other words, you wound then on 4s, 3s, or 2s, with your spears or archers depending on how well you roll for withering, rather than the usual 5s).
And people have mentioned, ogres don't get impacts if they charge less than 6", so after his first turn of advancing with his main lines, move up 7 or more inches, as that would put you under 6" for his charge, so he gets no impacts.
Also take at least one unit of 30 spears to be steadfast, and either swordsmasters or WLs to chop up his blocks. DPs as a flanking force also work well. Basically, have his weaker units charge your spears or elite infantry (preferably lions for your elite infantry, so they are stubborn in case he rolls well), you stand (after killing quite a few), then you charge their flank with DPs, and either wither them or cast Okkams on your spears (try Okkams first, and if he uses all his dice towards dispelling it, you have a few dice left to try withering). If you do that, you would have 10+ WS 5 S5 attacks from your DPs, and 20 S8 attacks with your spears. All of your attacks re-roll failed rolls to hit (meaning, if you don't wither them but get off Okkams, you are wounding on 3s with your DPs, and 2s with your spears).
Those are some basic tactics anyway.