Hi ED!
As promised some examples. Please, bear in mind these are more ideas rather than definite solutions. Sometimes they worked, sometimes they didn't. My usual approach so far was to avoid the big nasties and protect my own characters as often the enemy is after fragile but expensive general or bsb.
Example 1 - Avoidance
This is example from my old game and the one I added to the very long post on some MSU observations: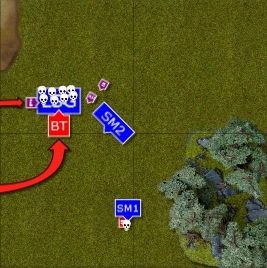 In the game against Daemons of Chaos I faced a big challenge (literally!) in the form of Bloodthirster. I managed to elude his attention for some time and it happened that I needed just one more turn to survive with my characters. As you can see on the diagram I positioned my 2 units at an angle with only a small gap in front. My characters were between the units, one inch away from each regiment and presenting their front to the Bloodthirster. In that situation Bloodthirster could not land between them to attack my characters. He could only charge a unit. As he had to maximize the number of models in contact it also meant he would not be able to pursue or overrun into my archmage either. Another important factor here is that I didn't have any champions in these units so I could not challenge and by sacrificing one be able to remain steadfast one turn longer. It did help, however, to be able to cast Courage of Aenarion to make the regiments stubborn as the one attacked suffered too many casualties to remain steadfast. Thanks to this formation my characters survived the game and when we calculated the points it was a draw!
Of course we don't have an access to Courage of Aenarion anymore but Light Magic can help here too. It is more about the principle when you deny landing zone for the enemy and force them to waste time on less juicy targets.
Example 2 - Close Combat
Kill them with Swordmasters (or other hard hitting troops). I run mine with a Bladelord so that I can challenge the beast and then use a lot of attacks from the unit to kill the enemy. It is not a guarantee as it depends on how well your opponent rolls his armor/ward saves but sometimes it does work.
In the following battle I managed to defeat a Chaos hero on a juggernaut this way:
Battle 97 (2013/07/21)
-
Battle 2 - 2400 vs. Tzeentch Warriors
You will also notice that in the same battle a simultaneous charge failed to kill the Daemon Prince despite the fact that the units attacking were White Lions and Dragon Princes. Still, something worth consideration I hope.
Example 3 - Combat Resolution
Break them with static CR. It works even better if you can still challenge them, thus minimizing the damage they can do (no t-stomp) and also if you do so with heavy cavalry. It works very well on Sorcerers on Disks as they also have few attacks. I managed to achieve that in this game:
Battle 78 (2013/02/23)
-
Battle 7 - 2400 vs. Warriors of Chaos
Dragon Princes held and then Swordmasters charged to provide extra bonus from charge and rear.
Example 4 - Shooting
Shoot them! Yes, it might be difficult but if you throw enough sticks at them they will eventually fail enough armor saves. It is of course going to depend on the situation. It might be more beneficial to shoot at other targets, also dangerous but at the same time easier to eliminate. Again, have a look at the game against Tzeentch WoC. What heavy cavalry and lions failed to achieve was done by shooters.
Example 5 - Magic
This is example I got from one of my games but also from the game of a friend of mine. In my game:
Battle 80 (2013/02/28)
-
3000 vs. Strigoi
I played against Strigoi Ghoul King. I cast Final Transmutation on his horde unit. The advantage was that I could kill some ghouls in his horde unit. But as a bonus I got his Vampire Lord too.
The example from another game is when the very same spell was cast at Blood Thirster over and over again until the 6 was rolled. It is quite possible it was also 6-dice casting but still. Getting a 6 might be at less than comfortable odds but 1 in 6 chances are worth trying.
There are more spells out there that might be good against certain characters, not only from death magic.
In general one could use all of the above and eventually kill the Superman. The challenge lies in the fact that they never come alone. So the decision has to be made. Do you want to focus on the character and destroy it or do you prefer to fight against its minions.
Cheers!
_________________

Twitter @SwordOfHoeth
High Elves MSU - Observations
Rabidnid wrote:
Are you seriously asking someone called Swordmaster of Hoeth why he has more swordmasters than white lions? Really?