Game One Vs. Trevor's Warriors
Scenario:
Pitched battle
Enjoyable start to the tournament against a guy who I believe is heavily involved with the running of Kingaroy Gamers Club. He attended last years event however we never crossed paths, so this time around I drew his WoC straight up.
Trevor's List:
Archaon
BSB Crown of Command
Lv2 Death, Scroll
18 Warriors
5 Hounds
5 Hounds
22 Chosen
2 Chariots
2 Hell Cannons
I want to start by saying I made a crucial mistake in this game (probably the worst you will see by a HIgh Elf player) I am still kicking myself and by posting this battle report up I realise I will never live this down.
Spells:
Archaon -
Spirit Leech and Doom and Darkness
Lv2 -
Purple Sun and Fate
AM -
Miasma, Enfeebling, Wither and Mind Razor
Deployment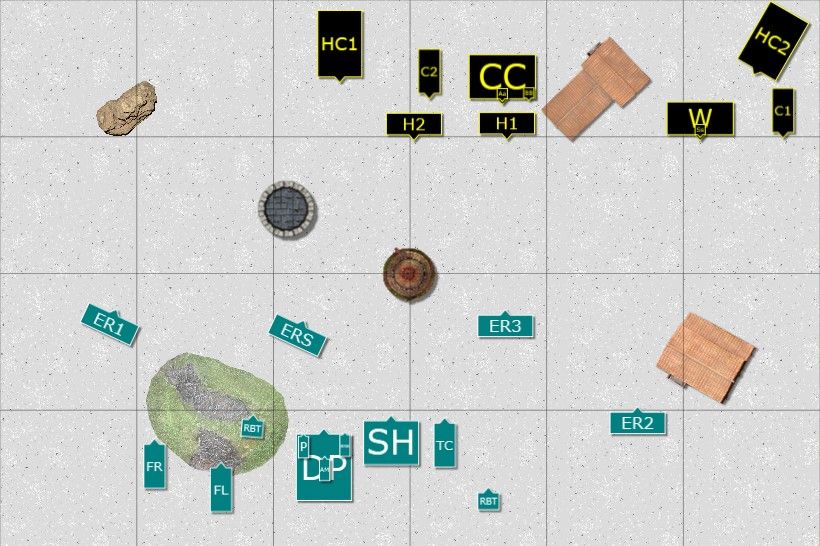 My opponent had very little drops and began by deploying few units to my right flank near the buildings. I new there was only one way for him to go and that was back to the centre so I used the to my advantage and gave myself more time by deploying just left of centre. Chosen received +1 toughness.
WoC Turn One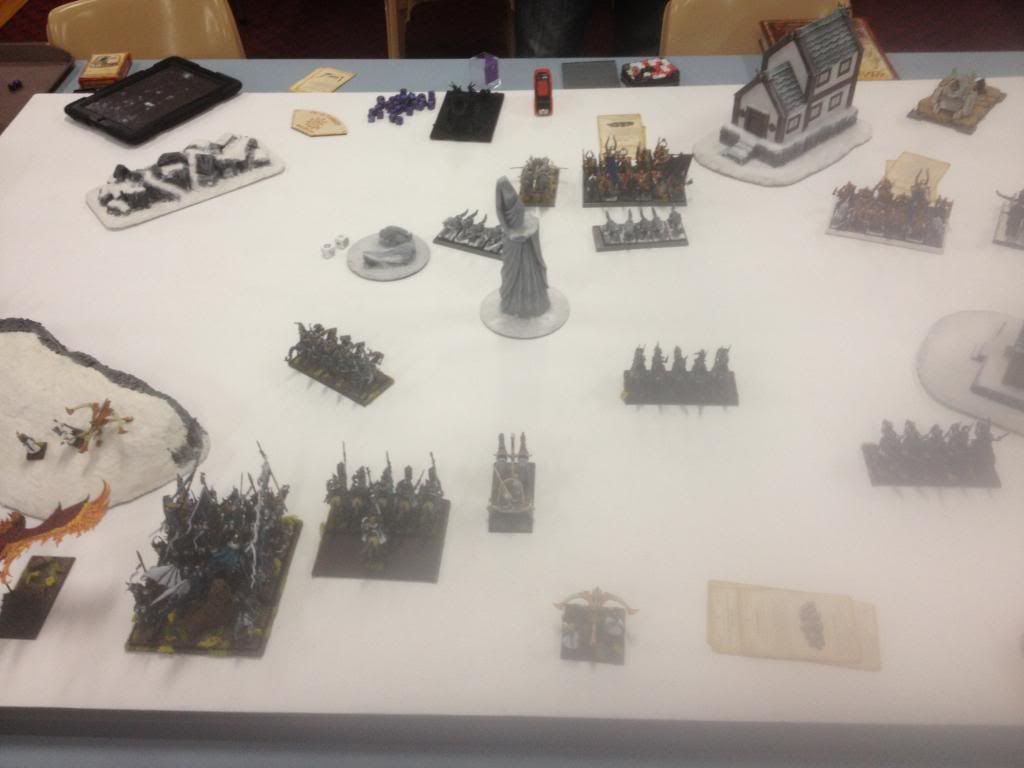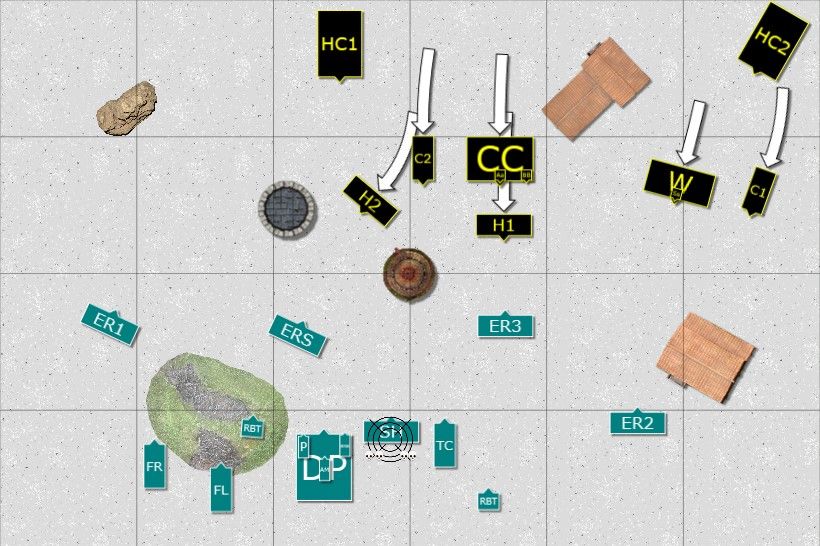 Movement: everything full steam ahead.
Magic: (2 v 1) he casts spirit leech on the chariot but luckily I out roll him.
Shooting: both hell cannons aim for silver helms killing 4 total, and panic is passed.
Asur Turn One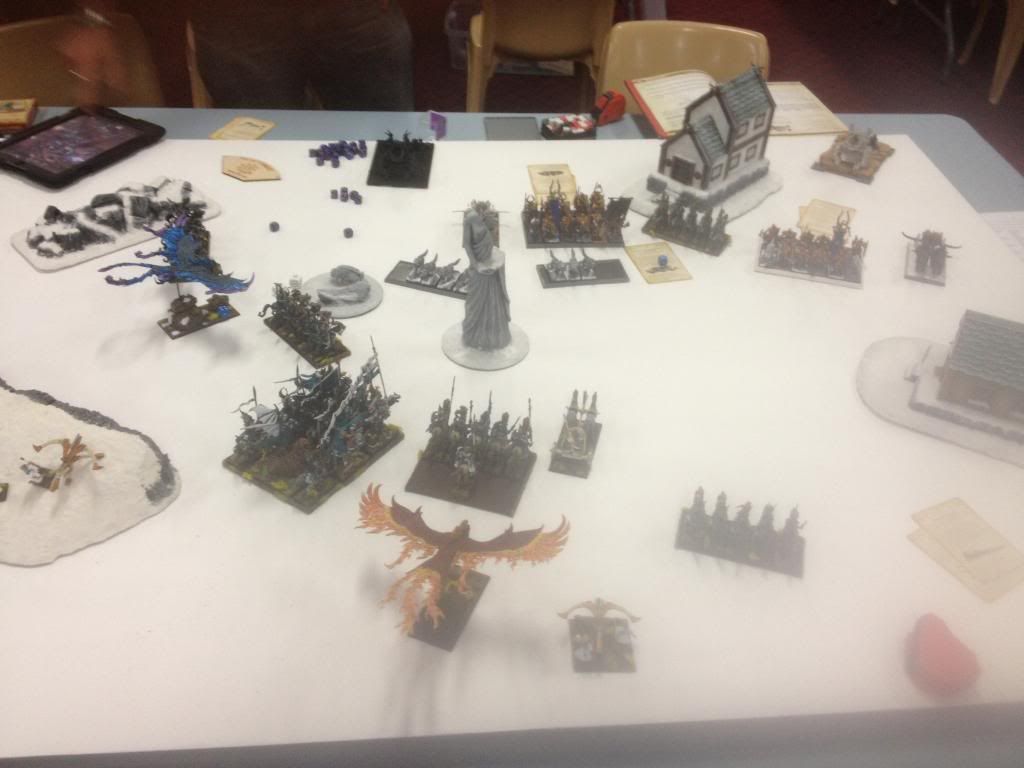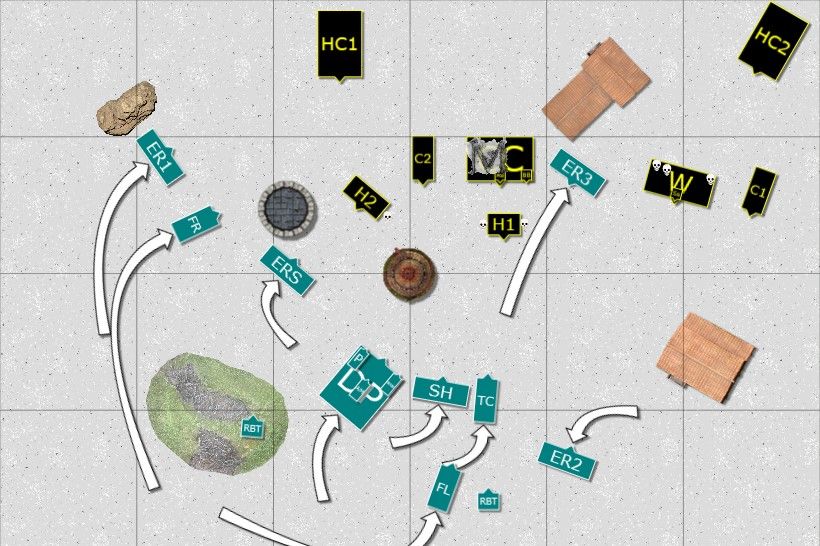 Movement: I begin my advance around the left flank, sending some reavers behind enemy line s.
Magic: (7 v 4) first cast of 2D for movement Miasma on his bunker goes IF (without BoH re-roll) I loose 2 wizards levels and reduce his movement to 1.
Shooting: I kill a couple of hounds with reavers and a couple of wounds on the warrior unit.
WoC Turn Two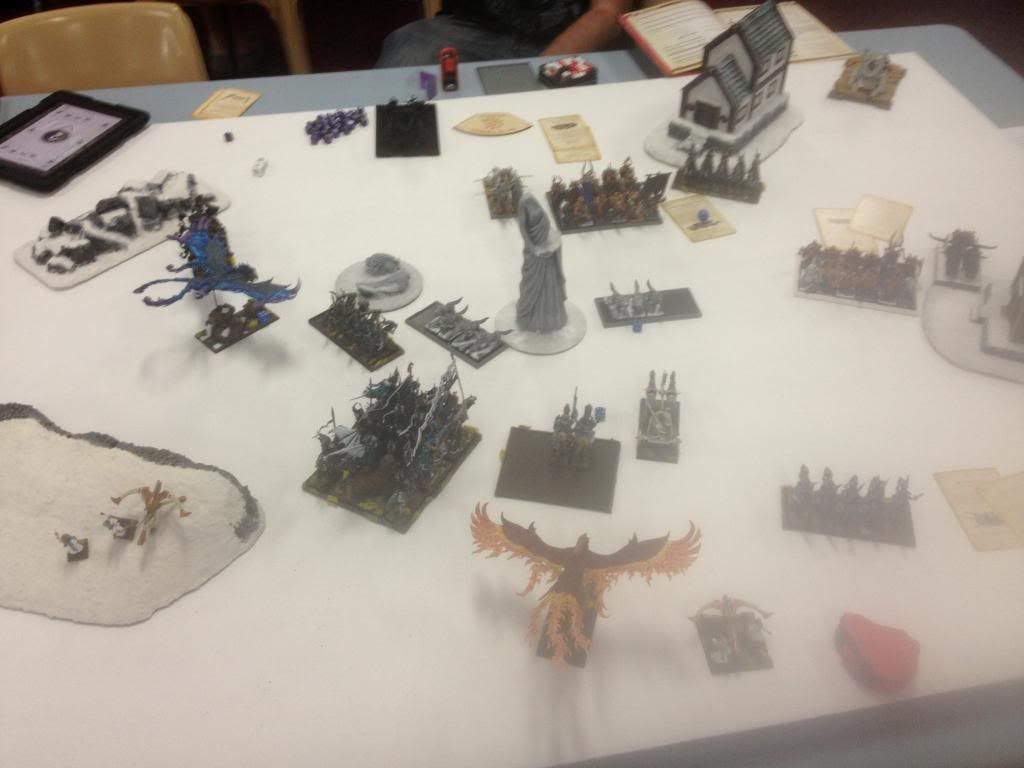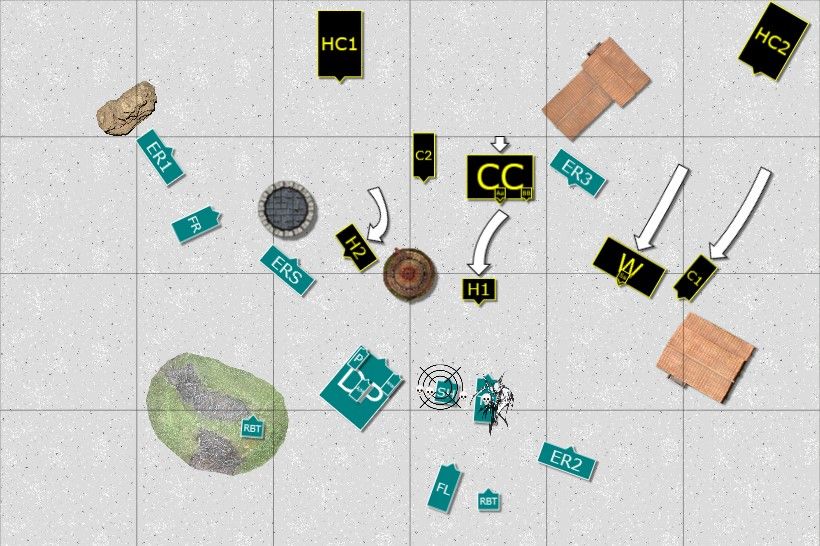 Movement: everything full ahead again, chosen edging forward an inch.
Magic: (3 v 1) he again casts spirit leech on the chariot and I think he may have caused a wound.
Shooting: both cannons at the silver helms leaving two left.
Asur Turn Two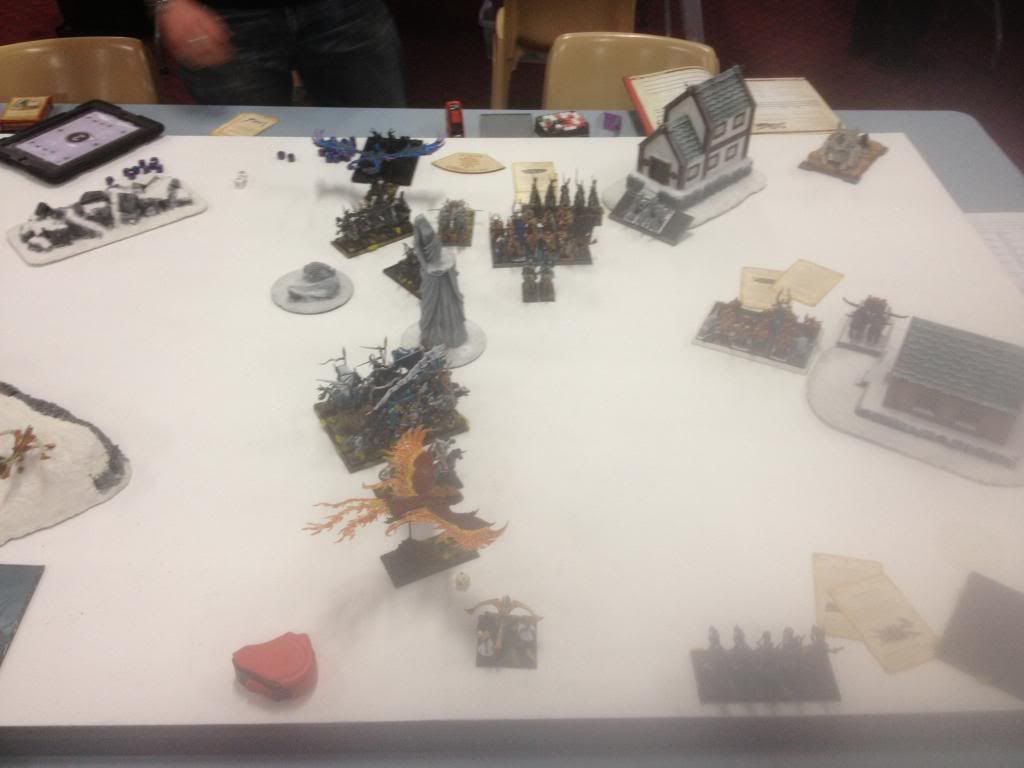 Movement: I declare a charge on the eastern hounds with silver helms and western hounds with reavers, plan being to overrun and also act as redirections. The frost Phoenix charges the western cannon. The Bus , chariot and flame Phoenix set up to take up chargers next turn.
Magic: (4 v 3) he dispels my attempt at miasma.
Shooting: I manage a wound on the western chariot.
Combat: both Phoenix and cannon do a wound, I win combat by 1. Silver Helms kill hounds and reavers break theirs over running perfectly into position.
WoC Turn Three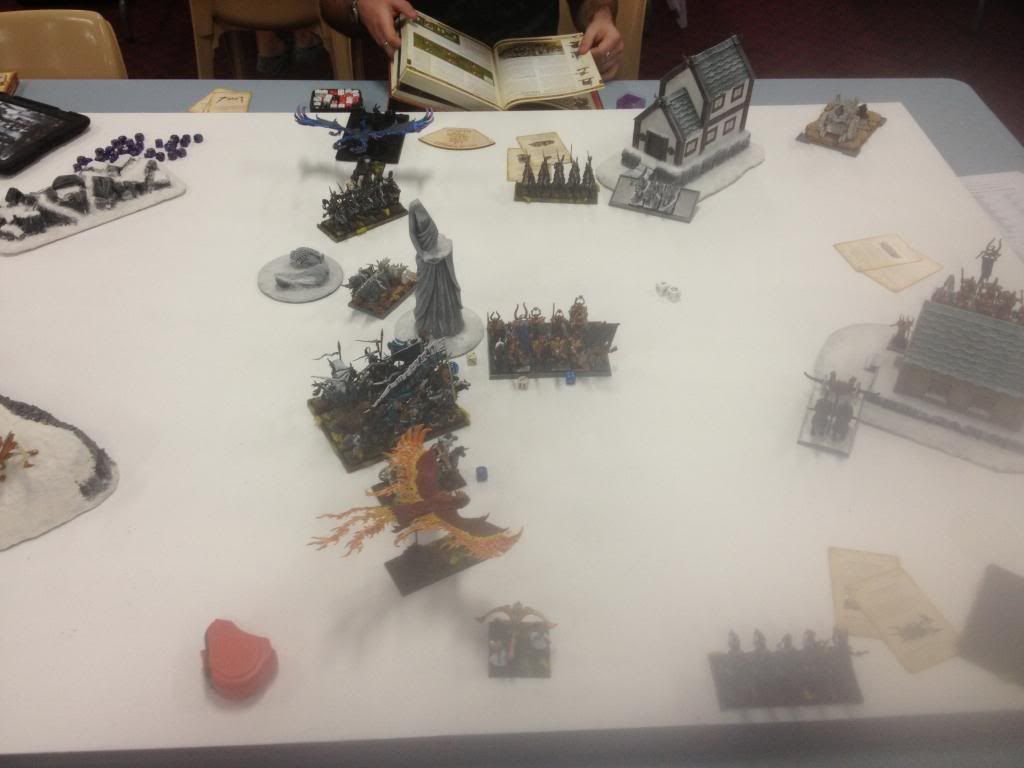 Movement: Chosen charge the Helms and chariot charges the reavers. Warriors move into the build while eastern chariot advances towards my lines.
Magic: nothing significant happens this phase from memory.
Shooting: cannon aims for bolt thrower but scatters away.
Combat: reavers and helms wiped out, and chosen overrun. Stand off with the Phoenix and I don't do any wounds
Asur Turn Three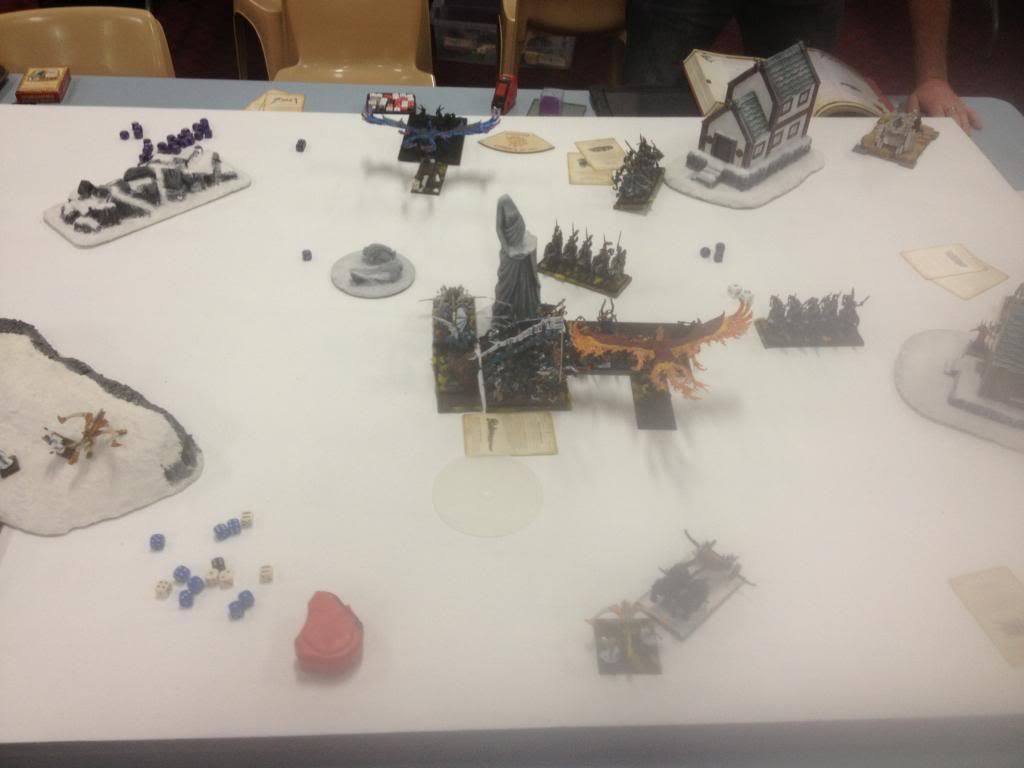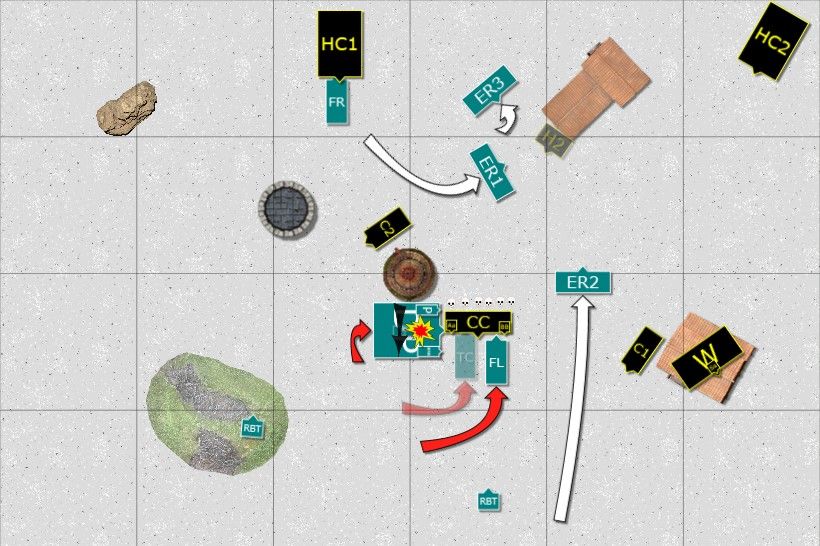 The rise and fall all comes in my one turn here, finally spent the time to set up good to deployment and work towards a win but one simple mind blank really proves costly.
Movement: I throw everything at the Chosen bunker, and move the reavers to fire at the hounds. As I roll for winds I say to my opponent great I forgot to redirect your chariot with my reavers (I used extremely disappointed with myself for this slip up) but I understand that it was a tournament environment and things become less lenient but I could only blame myself.
I stood positive and thought that this could still work out okay for me and I new the Bus would still be able to hold on. However over the next two turns my mistake only amplified at this point.
Winds: (8 v 6) I cast mindrazor with IF and suck my AM into the void.
4++ ward for attuned to magic.
Shooting: I hope desperately to kill the chariot but no luck. Reavers kill the hounds....totally worth it.
Combat: Archaon challenges and I accept with my unit champion. Archaon unleashes the daemon but I manage to save 6 wards with my champ and he lives. I manage to just about wipe his whole unit out and and he kills a chariot and does 2 wounds to flamer. Passes his stubborn LD. Stand off with the Phoenix and cannon.
WoC Turn Four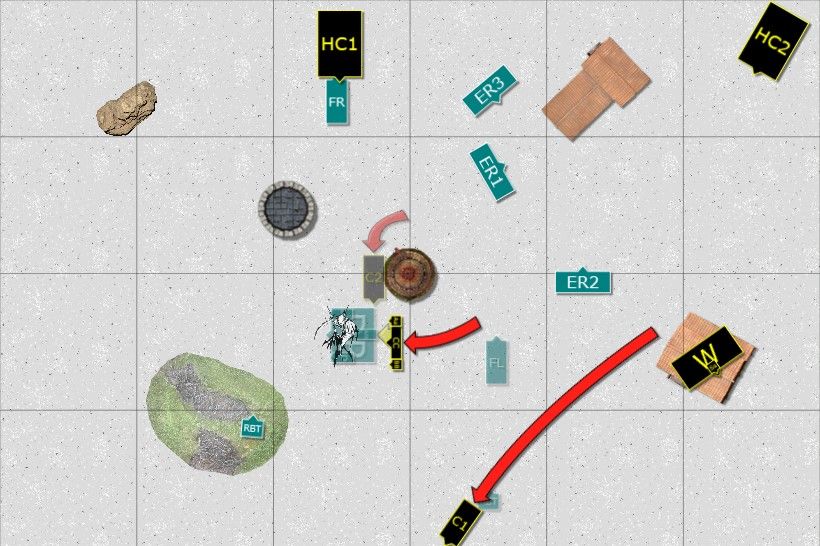 Movement: chariot charges the flank of the Bus and western chariot charges the Bolt Thrower.
Magic: (6 v 3) he casts doom and darkness with IF on the DPs, not what I needed.
Shooting: misses on the far Bolt again.
Combat: Rolls 7 for impact hits and wounds with all 7 annnnd just when it couldn't get worse I fail all 4+ armour (no word of a lie) and manage to save 2 wards. The prince kills the chariot, my champ manages to survive the wrath of Archaon again( he does two wounds to himself) and the flame Phoenix gets killed without a chance to kill the unit (he only manage three wounds and I didn't save one 4++). I loose combat by 1 and break on LD6 rolling 3 2's for my flee and dying. I roll shocking again with the Frost Phoenix and am stuck with the hell cannon for another turn.
I luckily roll a 6 for the fire reborn and he comes back with 3 wounds
Asur Turn Four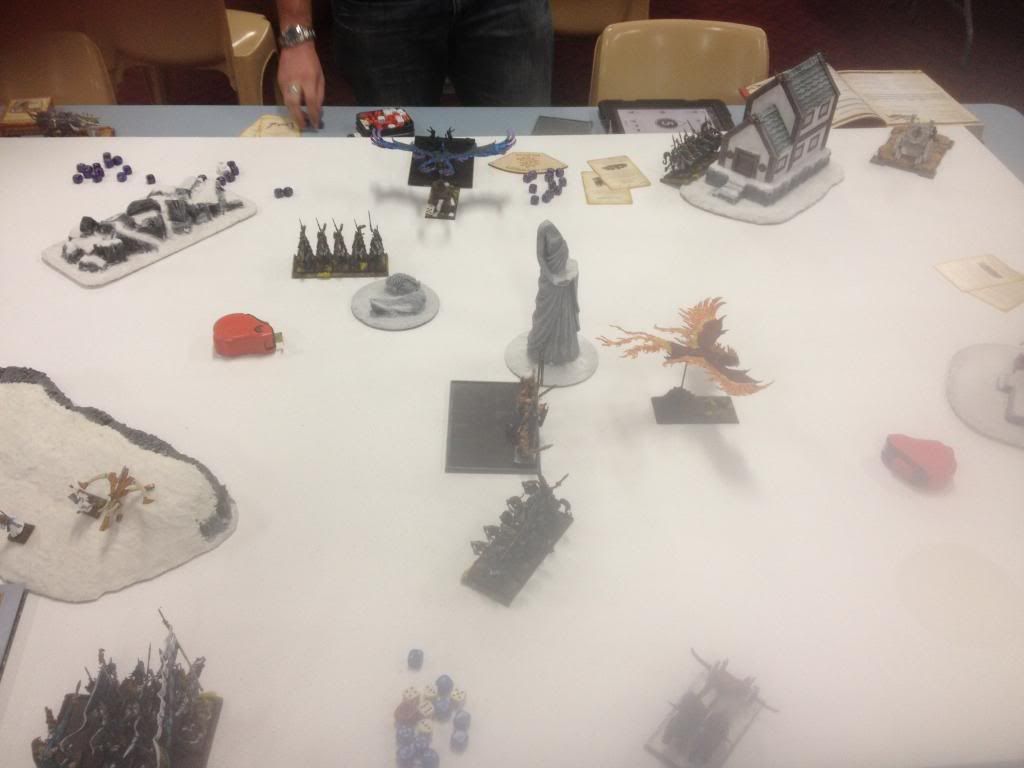 All I can really do at this point is try to get some points on offer.
Movement: flame Phoenix charges the chosen.
Magic: only roll to see what attune gets me which is +1 str
Combat: Flame Phoenix losses two wounds and can't get the points for the Chosen, I loose combat and break but I manage to get away. Frosty still can't kill the Hell Cannon.
WoC Turn Five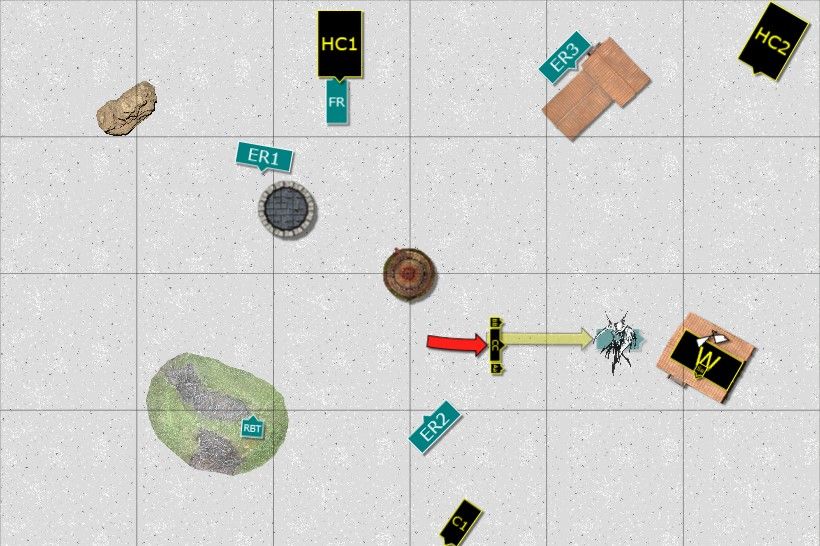 Movement: Chosen charge the flame Phoenix pushing him further away. Chariot re-enters in the back field.
Magic: I can't remember the winds roll but he manages to spirit leech the Flamespyre's last wound.
Shooting: Hell cannon misfires but survives.
Combat: stand off again...poor Frosty.
Phoenix reborn I roll flame kindled
Asur Turn Five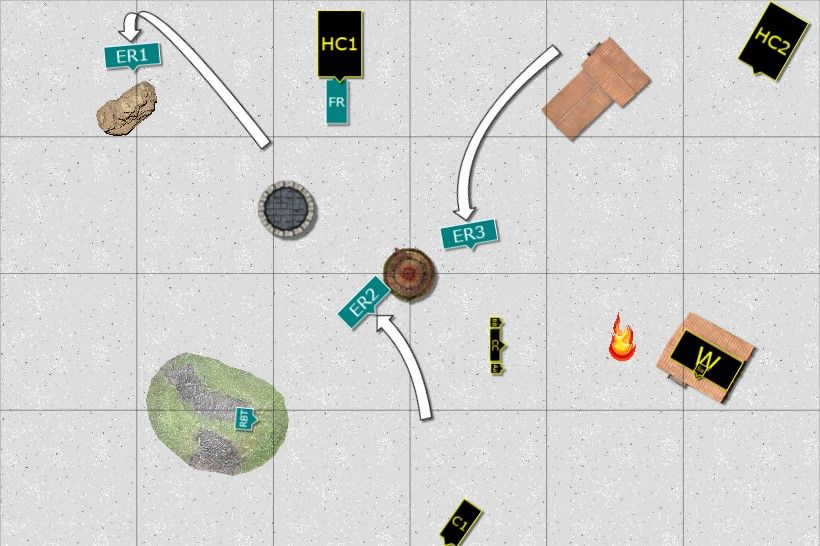 Everything moves to basically hide
Magic: I roll -1 str for attuned to magic.
Shooting: Bolt thrower manages two wounds on the chariot.
Combat: no good for frosty again, I think the Hell Cannon was left on one wound for a couple of turns.
Phoenix reborn rolls flame kindled.
WoC Turn Six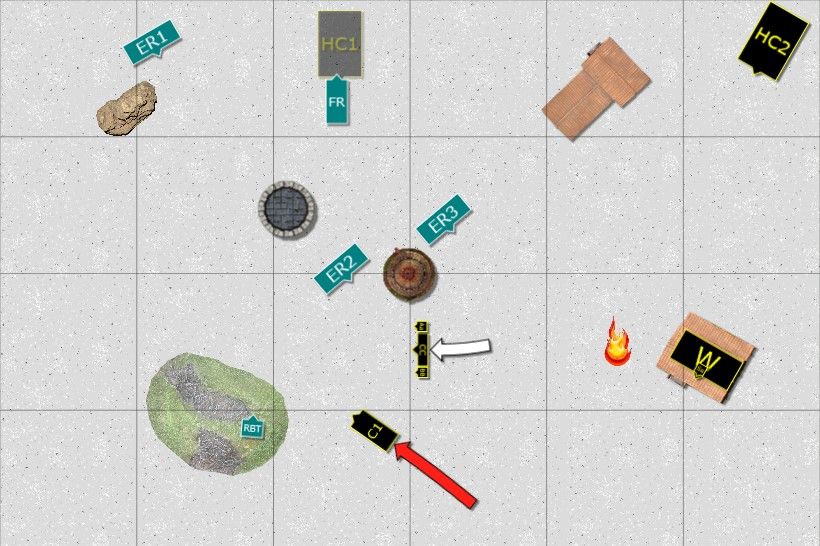 Moved everything towards my bolt thrower.
No other real damage was done.
Combat: Frosty finally Kills the Hell cannon
We basically end the game here and I just roll two turns of Phoenix reborn to try and get the points back which I do.
It was utter disaster for the Asur
, what should have probably been a win turned into an
18-2
lose. It is obviously clear where my mistakes came and it cost me dearly. I would like to think that I still got unlucky in areas where the Bus should have still held on but it just didn't work that way.
my next Match up after this is Lizard men, the only way from here is up....right?