Game 3 - High Elves vs Warriors of Chaos - 1500 points
I think it's about time I dusted this thread off and wrote some new reports!
Today, a 1500 point Battle for the Pass, my High Elves vs Jesse's Tzeentch Warriors of Chaos. I didn't take notes, but I did take a few pictures so this should be
mostly
correct.
My list:
Loremaster –
Book of Hoeth, Sword of Might, Shield of the Merwyrm, Golden Crown of Atrazar
(330)
Noble – BSB, heavy armour, halberd,
Reaver Bow, Potion of Strength
(146)
14 Archers – standard, musician (160)
5 Reavers – bows only, musician (95)
5 Silver Helms – shields, musician (125)
5 Dragon Princes – musician (155)
18 Phoenix Guard – full command,
Razor Standard
(345)
Repeater Bolt Thrower (70)
Repeater Bolt Thrower (70)
Total: 1496
My opponent's list:
WOC list:
Sorceror Lord -
Charmed Shield, Dispel Scroll, Talisman of Endurance, Level 4 Wizard, Mark of Tzeentch
, Lore of Metal (345)
Exalted Hero - Battle Standard, Daemonic Mount,
Enchanted Shield, Talisman of Protection, Burning Body, Mark of Tzeentch
(210)
23 Chaos Warriors - shields, full command,
Standard of Discipline, Mark of Tzeentch
(436)
Chaos Chariot
5 Chaos Warhounds
5 Chaos Knights - ensorcelled weapons, musician, Mark of Tzeentch (235)
Gorebeast Chariot
Total: 1,496 points
Deployment:
I deployed mostly defensively. My thoughts going into this game were that the giant brick of Warriors would take a lot to kill - several turns of shooting and magic to soften them up before finally engaging with my Phoenix Guard and flank/rear charging with any cavalry I had left. However to do this I'd need to kill off his support units first. Between my magic and Bolt Throwers I didn't think this would be too much trouble to manage, and once done I'd have a large amount of control over the board.
My Silver Helms were 3 wide so they could fit down the side of the house to get to the rear of the Warrior's lines. The Reavers vanguarded up only a small distance to stay out of charge range of the Knights.
The Sorcerer Lord rolled up Searing Doom, Enchanted Blades, Transmutation of Lead and Final Transmutation.
I managed to win the roll to go first, even with the +1 going to my opponent!
High Elf turn 1:
Mass advance. My Archers needed to step down the hill to make sure they weren't giving cover for my Bolt Throwers and my Loremaster needed to get into range. My cavalry moved into better positions, with the Reavers being completely hidden from the Chaos Knights by the tower.
In the magic phase I successfully cast Spirit Leech on his Sorcerer Lord onto to roll a 1 on the dice-off. A lower level Searing Doom on the Gorbeast Chariot was dispelled.
(As a side note, I hate this thing. So many elves have been crushed under it's virtually invulnerable wheels that it's been named 'The Destroyer of Avelorn')
A pair of single shot bolts completely missed the hulking Gorebeast and a hail of arrows pinged harmlessly from the Knight's armour.
Warriors of Chaos turn 1: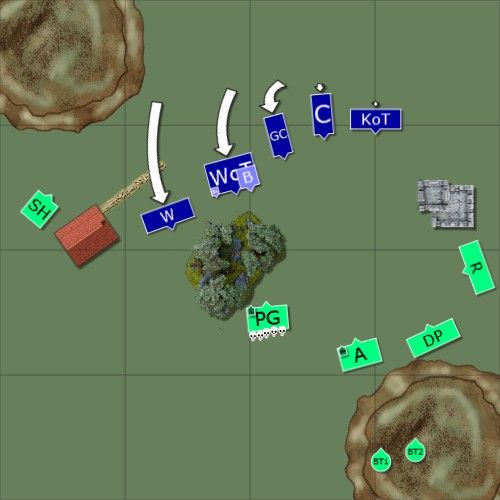 The Knights hold back, wary of my Dragon Princes charge. The Warhounds manage to sneak forwards far enough that my Silver Helms couldn't draw line of sight to them. The rest of the army maintained a solid battle line.
With little else worth casting for the time being my opponent threw a 6 diced Final Transmutation at my Phoenix Guard that I am powerless to dispel and 5 are turned to gold.
High Elf turn 2: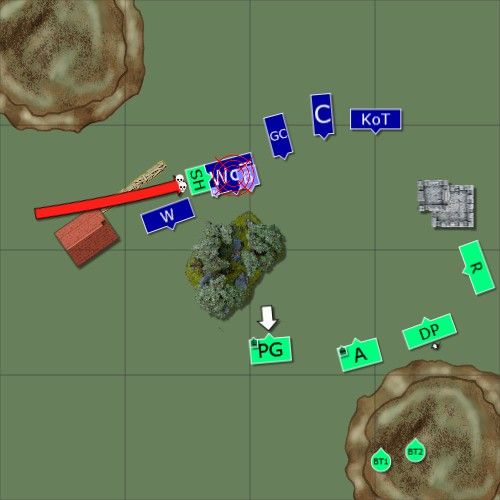 My Silver Helms had a flank charge lined up on the Warriors and I decided to charge. I figured that I wouldn't do much to the unit, but I didn't have anything else planned for this unit and I'd at least get some attacks onto his general. One Silver Helm crashed into the fence in the way in. Thanks to his BSB joining the unit, the Warriors were actually 5 deep at this point so I had to maximise with only 1 Silver Helm in contact with the Sorcerer Lord. Not what I'd been hoping for when I declared the charge but it serves me right for not thinking it through beforehand!
In magic I cast an Iceshard Blizzard onto the warriors - mainly to lower the general's leadership by 1. Searing Doom is dispelled and my Spirit Leech onto the Gorebeast Chariot does nothing.
In shooting my Archers again fail to damage the Knights. This time I get a single bolt to hit the Gorebeast but fails to wound. Just what will it take to kill this thing?
In combat his BSB makes way, but I'm still able to direct all of my attacks onto either the Sorcerer Lord or the Warriors. All I'm able to do is trigger the Sorcerer Lord's Charmed Shield, but thanks to Iceshard Blizzard he's only able to kill a single Knight in return. Amazingly, I pass my break test and hold his Warriors in place for a turn!
Warriors of Chaos turn 2: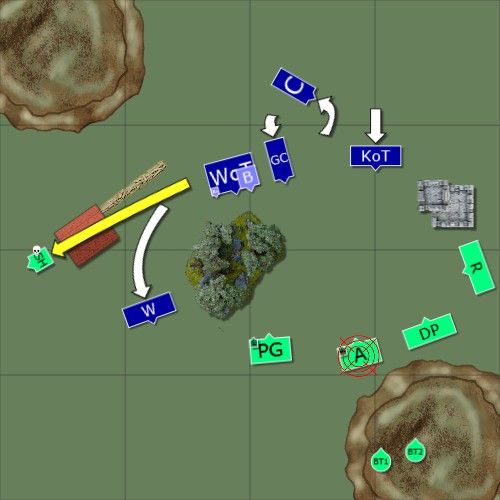 The Warhounds move past the edge of the forest. The Knights advance to bait my Dragon Princes while the Chariot moves to offer a nasty counter-charge.
In the magic phase I let Transmutation of Lead go through onto my Archers so that I can stop Final Transmutation.
Again, he only is able to kill a single Silver Helm. I do nothing to him and I break, fleeing through the building. He reforms to face my lines once more.
High Elf turn 3:
Fuelled by their arrogance I charge my Dragon Princes into his Knights, needing ~7 to make it. I know this is likely a suicide mission for my Princes but my unit is significantly cheaper than his Knights so if I can kill them it's a win on points. More importantly, it should hold up his faster units for a turn or so to give me more time to deal with them. My Silver Helms rally and the rest of my army shuffles around.
Once again I manage to cast Spirit Leech onto the enemy general, and once again my Loremistress proves she has the strength-of-will of a potato and does nothing.
This turn I finally manage to cause 2 wounds to the Gorebeast Chariot with the combined shooting of my entire army.
In combat, my Dragon Princes kill 2 Knights, they kill 1 back and finally one of my horses kicks another Knight to death. Go horses! I win combat and he breaks, I pursue and fail to catch them. Noo! My Dragon Princes have sacrificed themselves without earning a single victory point in return.
Warriors of Chaos turn 3: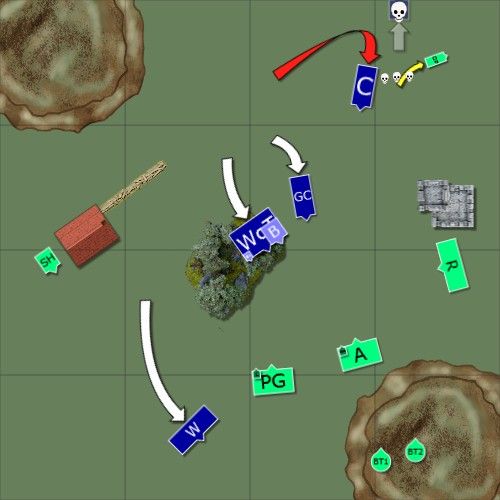 The Chariot declares a charge onto my Dragon Princes. I'm too close to the Chariot and to the board edge for fleeing to be worth it so I'm forced to hold. Then the Knights fail to rally and run off the board. Huzzah!
The Warriors discover that they are in a fear-forest as the rest of the enemy army advances. My opponent makes sure to keep the Gorebeast chariot just over 15" away from my Archer unit.
My opponent puts Enchanted Blades onto his Warriors in preparation for my Phoenix Guard charging them. I have no intention of charging them next turn so I let it go to save my dice for Final Transmutation. It fails to cast.
3 Dragon Princes are cut down and the single survivor flees ~3". The Chariot ignores him and reforms, knowing the Dragon Prince needs double 1's to rally.
High Elf turn 4: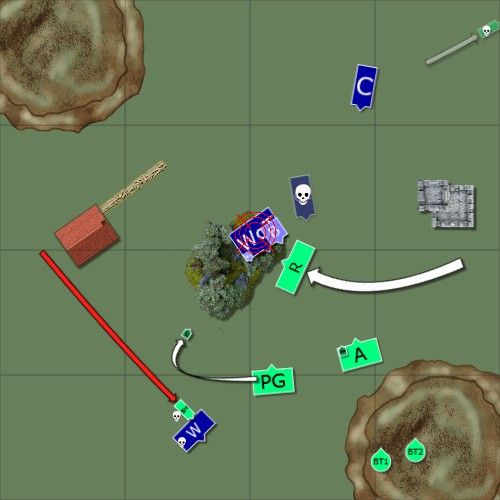 I gulp down my Potion of Strength. (Actually I forget until my shooting phase, but my opponent was nice enough to let me retroactively chug my steroid juice)
My remaining Silver Helms make a rear charge on the Warhounds. I'm relieved they made the charge as now I won't have to waste a bolt thrower (or two) to shoot them off the table.
My remaining Dragon Prince runs off the table, but he's tired and it takes a few turns of running ~5" per turn.
I realise that I can run my Loremistress out on her own. His only real way of hurting her at this point is Searing Doom, and she only has a 4+ save and the Golden Crown to protect her. He could send his BSB or chariot to hunt her down but it'll take some time to catch her, so I jump out of the Phoenix Guard and move to the flank of the Warriors. My Reavers jump out from hiding to taunt the Warrior unit, ending 1" in front of them and at an angle. If the Warriors kill them and overrun my Phoenix Guard will have a nice flank charge set up.
In the magic phase I get an Iceshard Blizzard though onto the Warrior unit but my other attempt(s?) are dispelled.
My Archers and BSB show me how it's done and finish off the hated Gorebeast Chariot. My Bolt Throwers shoot single bolts at the regular Chariot and put 2 wounds onto it.
In combat 1 Silver Helm and 1 dog die. I win combat, but his general is in range by millimeters and they stick. They do however fail to reform.
Warriors of Chaos turn 4: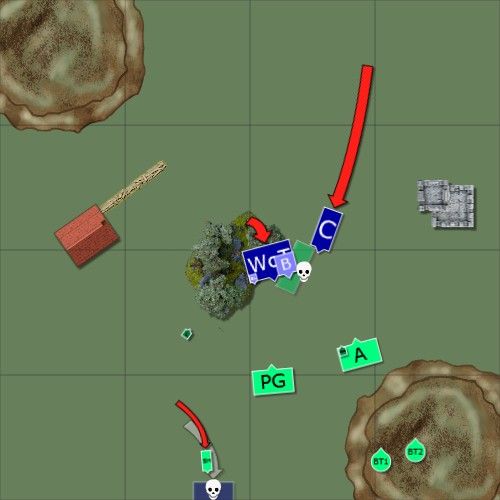 The Warriors and Chariot both crash into my Reavers. I can only assume they're too drunk to notice the danger as they hold in place.
I manage to dispel Final Transmutation cast onto the Archer unit.
In combat the Chariot's impact hits alone wipe out the Reavers, and both units decide to reform rather than overrunning.
My lone Silver Helm and the Warhounds do nothing to each other, but I still win combat and he flees. I pursue but he runs off the board anyway.
High Elf turn 5: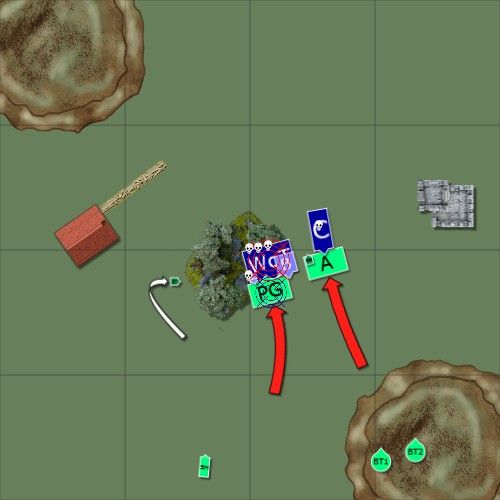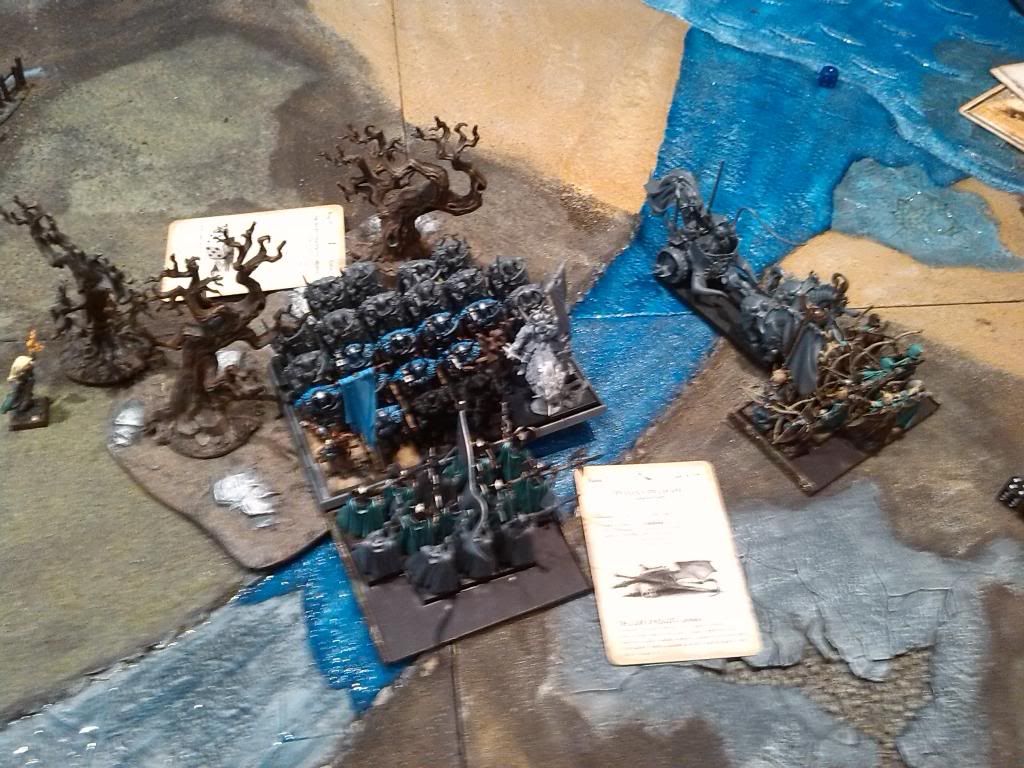 A combination of blurry pictures and unpainted models is why I'm not showing more of the pictures I took.
Charge!
I realise that the Warriors are in the forest and so can't be steadfast. My Phoenix Guard have a fairly easy charge to reach them. I think I'll need magical assistance to win this combat but if I can break the Warrior unit I'll almost certainly win the game even if I can't catch them because the unkillable BSB will die. Even if I can't break them in a single round of combat, they'll still be in the forest so every turn I can win combat is a turn I can possibly win the game in a single stroke. I declare the charge and he holds.
I realise that 5" of movement isn't quite enough for my Archer unit to block the Chariot from charging my Phoenix Guard and I can't rely on my shooting to finish it off. I decide instead to charge my Archers into the Chariot. Without impact hits I should remain steadfast with a BSB re-roll for at least 2 rounds of combat, long enough for the Phoenix Guard/Warrior combat to be decided. If I fail this charge, my two Bolt Throwers will have to do the job.
I declare both charges, he elects to hold and I connect with both. Thanks to the Chaos BSB having a huge base I actually have some choice in where I align with my Phoenix Guard and I choose to put 2 of my models in base contact with his Sorcerer Lord. Game on!
In an incredibly lucky magic phase I manage to cast both Miasma (reducing his WS by 2) and more imprtantly: Wildform.
Everything is in combat, so we skip shooting. In combat I put as many attacks (5) onto his Sorcerer Lord as I can. We're playing with closed lists at this point so I can only assume he's tougher than the regular Warriors so I'm no doubt sacrificing some of my combat res in attacking him, but I'm hoping that over a few rounds of combat I can at least kill him for a bunch of victory points even if I fail to kill the rest of the unit. The dice are on my side and I inflict 2 wounds onto the Sorcerer Lord and kill 3 Warriors in exchange for no casualties. He takes the tensest break test I've ever experienced but passes. So close!
Warriors of Chaos turn 5:
We jump straight to magic. I let Transmutation of Lead go off because, thanks to Miasma, I'll still have a higher WS than him so all it'll do is get rid of my 6+ armour save. Enchanted Blades on the other hand could change things a lot, but my opponent rolls remarkably low and I'm able to stop it.
Either now or in my following turn My Archers are able to finish off the Chariot after it killed ~7 Archers. I was never going to charge my Archers into the flank of his Warriors because I'd just be giving away combat res so exactly when this happened has very little effect on the rest of the game.
In the main combat I finish off the Sorcerer Lord and kill ~5 Warriors in exchange for ~4 Phoenix Guard. I still win combat, but once again he holds. By now I'm losing attacks and he isn't so it's looking worse and worse for my chances at breaking him.
High Elf turn 6: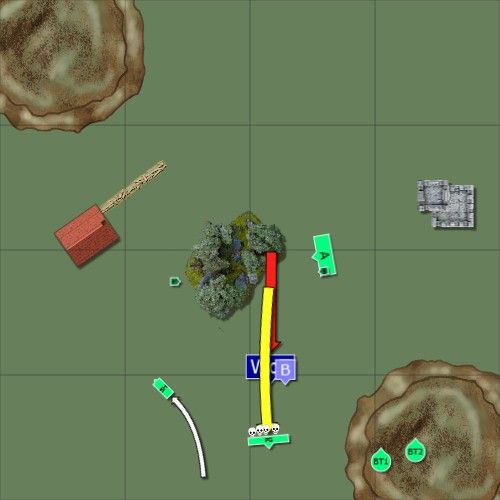 In magic I'm once again able to successfully cast a WS reducing Miasma and Wildform after some truly terrible dispel rolls. I'm still in with a chance!
This time the dice fail me and I don't kill a single Warrior. I'm hitting on 3's with a re-roll, wounding on 3's and he has a 6+5++ save and I do nothing. He's now winning the combat on static combat res alone but to make matters worse 3 more Phoenix Guard die. I fail my break test, the standard bearer is killed but he is unable to catch me.
Warriors of Chaos turn 6: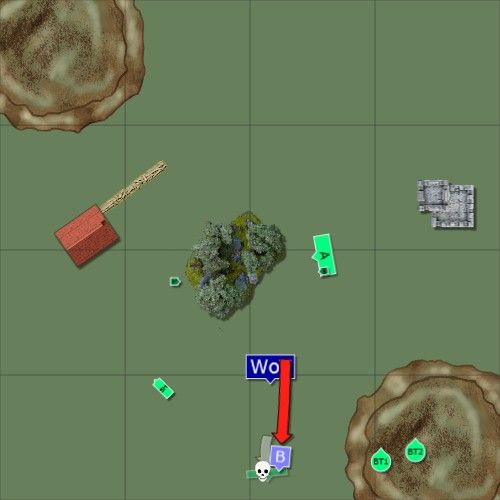 My opponent charges his BSB out of his unit (because it has a much higher movement and swiftstride) at my Phoenix Guard. I only flee 5" and stay on the board by a matter of millimeters. Because of this, he's unable to re-direct into one of my Bolt Throwers. The BSB of course tramples my remaining Phoenix Guard into the ground. With that, the game is over.
Wow, what a fun game!
I think my early magic phases were quite weak. Despite having the dice available I decided that throwing 6 dice at a boosted Searing Doom wasn't worth the miscast it might have caused. In a sense it worked because I didn't get a single miscast all game, but with 3 Spirit Leeches in a row causing a grand total of 0 wounds it certainly felt lackluster. This lack of magic power in the earlier turns was more than made up by my later magic phases. Continually having Wildform on my Phoenix Guard when it mattered was a huge help.
I did feel like it too far too long to finish off the Chariots, but this was probably balanced out by the Chaos Knights fleeing off the table so I can't complain too much. Perhaps it would have been better to multi-shot the Bolt Throwers at the Knights and then charging the Dragon Princes into one of the Chariots instead.
I'm very pleased I was able to set up things with the Warriors and Phoenix Guard in my turn 4. My opponent was left with the dilemma of fighting the Phoenix Guard in the forest of giving me an easy flank charge. I think it might have actually been better for him to overrun and take the flank charge. He wouldn't have gotten the 5+ parry saves, but he would have been free to make way with his BSB to force at least some of my models to waste their attacks on his ridiculous ward save. I think after all that I'd have been unlikely to bring them below 3 ranks and he'd have been steadfast. In any case, this probably wouldn't have changed the outcome of the game so it's all academic really.
After adding up the points I was 330 points ahead, meaning victory for the Asur!
I'd appreciate any feedback, on my playing, on my list or on my reporting. Thanks for reading!