Originally posted Mon Sep 26, 2011
Link to original post:
viewtopic.php?f=51&t=36868
Playing a slightly larger battle than I normally do, I brought out the Asur versus Warriors of Chaos. Special Characters aren't broadly used on the West Coast here in the U.S., but Throgg's gaining a lot of popularity it seems. I brought my standard take all-comers 3k list:
My list:
-Level 4 with Annulian Crystal, Foliarath's Robe, Lore of Life.
-Level 2 with Silver Wand, Lore of Shadow
-BSB with great weapon, Armor of Caledor, Dawnstone
-40 Spearmen with full command
-19 Archers with musi, std, Banner of Discipline
-12 Archers with musi, std
-29 White Lions with fc, Skeinsliver, Banner of the Eternal Flame
-30 Swordmasters with fc, Ironcurse Icon, Banner of Sorcery
-6 Dragon Princes with musi
-6 Dragon Princes with musi
-3 Great Eagles
His List:
-Level 4 with Regeneration, Enchanted Shield, Lore of Shadow
-Level 2 with Mark of Tzeentch, dispel scroll
-Exalted BSB with 4+ Ward, Mark of Tzeentch, Shield
-Throgg the Troll King
-25 Warriors of Tzeentch, fc, shields
-40 Marauders of Khorne, fc, great weapons
-5 Hounds
-5 Hounds
-6 Trolls
-6 Chaos Ogres of Tzeentch with light armor, shield
-Chariot
-Chariot
-Warshrine of Tzeentch
-Hellcannon
-Hellcannon
Spells:
My Level 4 ended up with a very strong selection of Earthblood, Flesh to Stone, Throne of Vines, Regrowth
My Level 2 got Miasma, Enfeebling Foe, Mindrazor
The Sorcerer Lord got Miasma, Withering, Pit of Shades (not quite sure why he kept this one, may have kept it to get rid of Steed of Shadows, didn't see) and Mindrazor.
The Level 2 got Treason of Tzeentch and Gateway.
Deployment
Terrain deployment was quick and straightforward, with a huge ruin in the middle that counted as a 3-story building, with another ruin on the right flank. The left side had some obstacles, and nothing else played much of a role.
For our units, I did my usual spread of Eagles, as well as the small archer block and Spearmen in pretty neutral positions to keep my opponent guessing. I was rewarded by him pretty much splitting his deployment, and I dropped my elites opposite his monstrous infantry knowing they were the right balance of easy kills/valuable VPs.
High Elf Turn 1
With a nice +2 to my roll, I handily won the roll to go first and went underway. Obviously Hellcannons aren't fun, so I sent everything forward full tilt and kept good coverage on my general/BSB in case of those Hellcannon Panic tests. I flew an Eagle up into the face of the Trolls, hoping to lure them into a foolish charge. I was hoping magic would come up big to help give me some durability, and I was promptly rewarded with... 3 Dice for Winds of Magic. Eesh. Channeling and Banner of Sorcery were able to take that up to 6 Dice though, and I got off Throne of Vines on 2 dice and threw the rest at Flesh to Stone on the Swordmasters. My opponent wasn't able to stop it, and so my Swordmasters felt good about life.
For shooting, archers targeted the hounds, panicking the unit on the right off the table and only managing one wound on the hounds on the left side.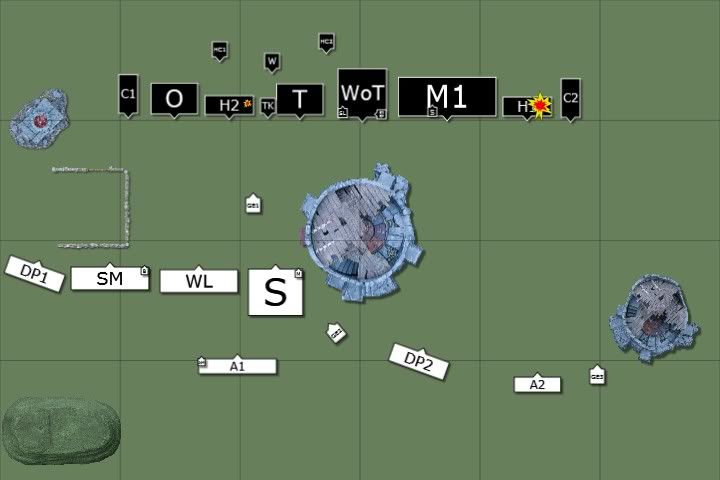 WoC Turn 1
The WoC player responded to the Eagle by charging it with hounds, while the rest of his units shuffled forward and the chariot on the left (not liking the look of my Dragon Princes) shuffled backward. Magic was weak for the WoC player also, with a low winds roll that the Annulian Crystal easily helped me to contain. Shooting wasn't nearly as controllable though, with two back-to-back Hellcannon hits directly on my White Lions which killed half the unit.
In combat, the Eagle dropped a hound and shrugged off their attacks which tied the combat.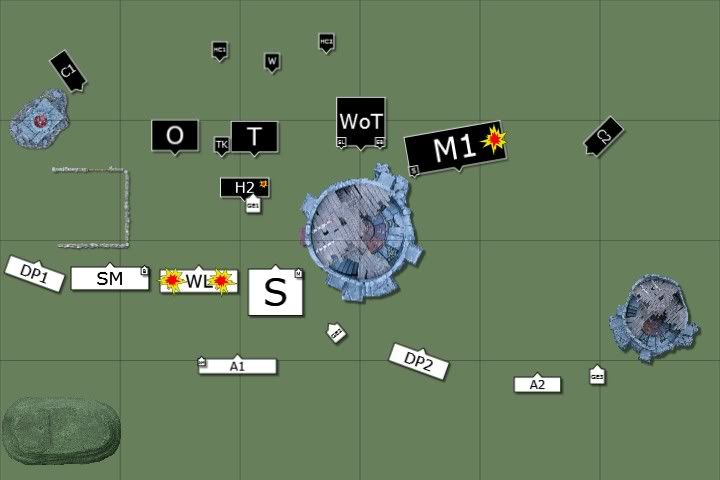 High Elf Turn 2
With the Eagle and hounds blocking my advance, I saw a nice opportunity to leapfrog into a huge combined combat. If I charged both the White Lions and Spearmen into the hounds (an easy distance) then I could wipe the hounds and also have a very easy overrun into the Trolls and Ogres. The Spearmen would only partially clip the Trolls, which meant they wouldn't be taking too many attacks, while the White Lions (and their Flaming Attacks) could split frontage across the Trolls and Ogres and hopefully rack up a massive kill count. With so many ranks on the Spearmen, and all the White Lion kills, plus Lore of Shadow/Lore of Life support for my units and no support on the Trolls or Ogres, I figured it would be a fine plan.
I charged the Spearmen and White Lions into the hounds, reaching pretty easily. Everything else moved up as well to cover their advance, with an Eagle dropping in front of the Tzeentch Warriors to delay them.
Unfortunately, magic had no intention of cooperating with my plan, and I ended up with a very tragic 4 Power Dice (only 1 from Banner of Sorcery, no Channels) while my opponent managed to channel and score another dice. I was able to get off Flesh to Stone on the White Lions, but there wasn't any other support. I still felt pretty good about my plan for the turn though, but a bit of Regrowth/Miasma/Enfeebling Foe would have been very, very welcome also.
For shooting, Archers kept up steady pressure on the Marauders (I find archers are great for just grinding down those big unwieldy Khorne hordes, so that a good High Elf charge can wipe them out pretty easily later in the game.)
For combat, I wiped out the Hounds as anticipated, but then my plan fell apart when the White Lions (needing an overrun of 5) decided to roll Snake Eyes and go nowhere. The Spearmen rolled higher though, and I decided to continue with the charge into the Trolls so that the Trolls, Ogres and Chariot couldn't all combo-charge the White Lions and wipe them out next turn.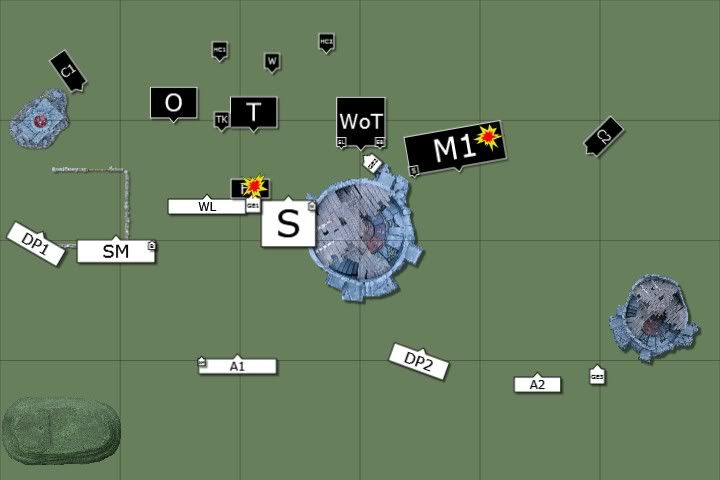 WoC Turn 2
Time for the big turn of Chaos counter-charging, and a world of hurt. The Trolls and Throgg hit my Spearmen to the front, as well as a Hellcannon which decided that thunderstomping pretty silver men was a good plan. The Ogres and Chaos Chariot hit the White Lions while the Tzeentch Warriors charged the blocking Eagle to get it out of the way. The Marauders, realizing they were nowhere close to any meaningful fight, hopped into the building in anticipation of leaping out in future turns to cause trouble wherever they were needed most.
Magic saw a pretty big phase for Chaos, with a 5/3 roll and a successful channel. Thankfully Annulian Crystal and a channel of my own helped even things up, and I was able to control the Miasma on my White Lions. I failed to stop Withering though, which basically cancelled out my Flesh to Stone that the White Lions were enjoying.
The Warshrine blessed the Ogres with +1 Attack, which wasn't very fun. For shooting, the unengaged Hellcannon took a shot at my Swordmasters, rolling a direct hit and... A... Misfire! Yay!
Then it rolled a 6, which meant the shot was resolved as a direct hit at Strength 10.
Boo. Splat. 12 dead Swordmasters.
Passed Panic on the re-roll, thankfully.
In combat, it was basically a really ugly mess of broken Elven bodies. Throgg, the Hellcannon and assorted trolls all breathed, puked and stomped all over my Spearmen and killed 22 of them. The White Lions did a bit better, taking 4 casualties from impact hits and managing to kill off 2 and a half Ogres before losing another 6 casualties. Ouchee. Thankfully, Stubborn and Steadfast held my units in place.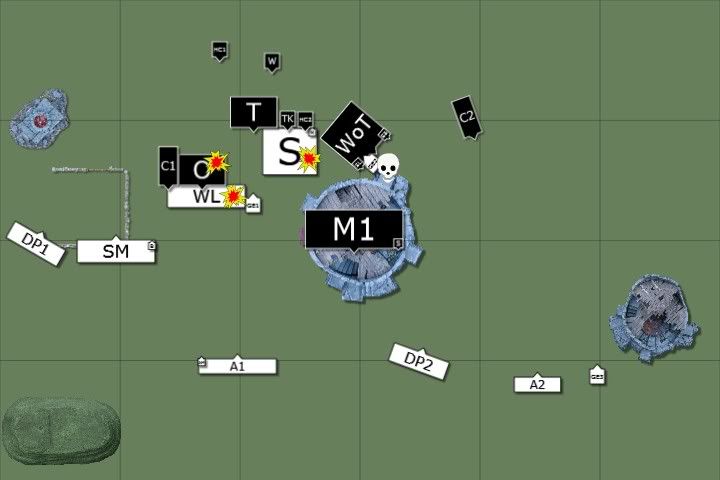 High Elf Turn 3
Go go reinforcements, as my Swordmasters charged into the chariot while the Dragon Princes hit it in the flank. My hope was to quickly overwhelm the chariot and Ogres, then turn the flank and present a nice solid force to possibly rescue the Spearmen (wasn't really hoping for much there, at the rate they were dying) but at least staunch the bloodflow on my soft little Toughness 3 models. I flapped another Eagle over to block the Tzeentch Warriors yet again.
Magic finally saw me get a respectable 7-dice phase, with Banner of Sorcery getting me up to 10 dice and at least giving me something to work with. 2 dice at Flesh to Stone on the Spearmen was successful, as well as two dice at Regrowth on the White Lions to bring back a few models. I then tossed a full 6 at Okkam's Mindrazor on the Spearmen, scored irresistible force, blew up 4 Spearmen in the process, but was very excited for some Strength 8 fun.
Shooting was uneventful; Archers shot at Marauders in the building, for lack of anything better to target (unless you think Tzeentch Warshrines or Warriors are a better target) and managed a mighty one kill.
In combat, I was hoping for some big love here. The full unit of Dragon Princes managed... One wound on the chariot. Eesh. My Swordmasters also managed... One wound. Sigh. Thankfully my BSB stepped up and showed everyone else how things get done, taking off the last two wounds and saving me some pretty major embarrassment. The White Lions managed to hack up some Ogres as well, though the surviving Ogres rolled hot and killed off every White Lion but the standard bearer. That lone White Lion was now worth over 500 Victory Points... Thankfully the last two Ogres broke, fled, and my Dragon Princes promptly ran them down. My goal was to restrain and reform with my Swordmasters, letting me face the oncoming Chaos hordes next turn, but they decided they really, really needed to kill those two Ogres. The Swordmasters promptly failed their test(s) to restrain pursuit and went dashing right after the Ogres. The lone White Lion, feeling VERY alone, got ready to sprint for the hills next turn.
The Spearmen, feeling pretty lively with Mindrazor on them, allocated as many attacks at Throgg as possible. My opponent decided he would just say "screw it" to my nasty-ass Shadows spell by saving 5 out of 7 wounds with Regeneration, which wasn't very fun, leaving Throgg on 1 Wound. However, the rest of the unit decided that Hellcannons aren't fun for anybody and promptly killed the one fighting them, which was enough wounds inflicted in my favor to keep my break test managable even though the Spear Elves were massacred down to just the standard bearer and my Level 2 (not quite sure why he'd survived this long, my opponent may have thought I had Foliarath's Robe there, though I believe Chaos Trolls have acess to magical attacks which my opponent may have forgotten also? Not that it mattered because I didn't actually have Foliarath's Robe? So many mind games.)
The Spearmen, all 2 of them, held bravely.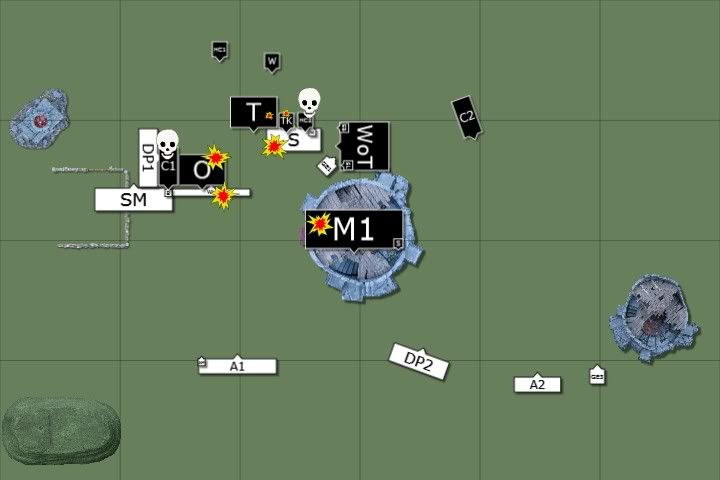 WoC Turn 3
My opponent was pretty fed up with my Eagle blocking shenanigans at this point, and sent the Tzeentch Warriors into the Eagle for the second time this game. He also unloaded the Marauders from the building, realizing that sticking around in his half of the table to after wayward Swordmasters was preferable to being riddled with short-range longbow shots and then charged in the face by angry Dragon Princes.
Also, unfortunately for me, my opponent has a really great knack for failing Rampage tests with his Hellcannons right when he has valuable juicy units sitting in his flank that he couldn't normally charge. So he failed his test, was able to make the random move charge, then (fortunately for me) also declared a charge at the Dragon Princes with the Warshrine also, which let me declare a flee reaction there (since I couldn't do it against the Hellcannon's random movement) and letting the Dragon Princes flee to safety.
My opponent made another lapse as well, wheeling the chariot to look over towards the Swordmasters which would let my other Dragon Princes (the ones who had been protecting my backline) make a strong push up to charge the chariot or possibly the Marauders next turn.
For magic, my opponent rolled up 7 dice and threw it all at trying to kill my last White Lion before I sprinted him out of range. I managed to stop Gateway with all my dice, but didn't have enough to stop Treason of Tzeentch which he'd saved two dice for. Thankfully my opponent rolled low and failed to cast, leaving the White Lion to laugh uproariously.
For combat, my valiant Spearmen died to the big mean trolls, while the Tzeentch Warriors murdered my Eagle. Poor Eagle.
Everything reformed to face my very lonely Swordmasters.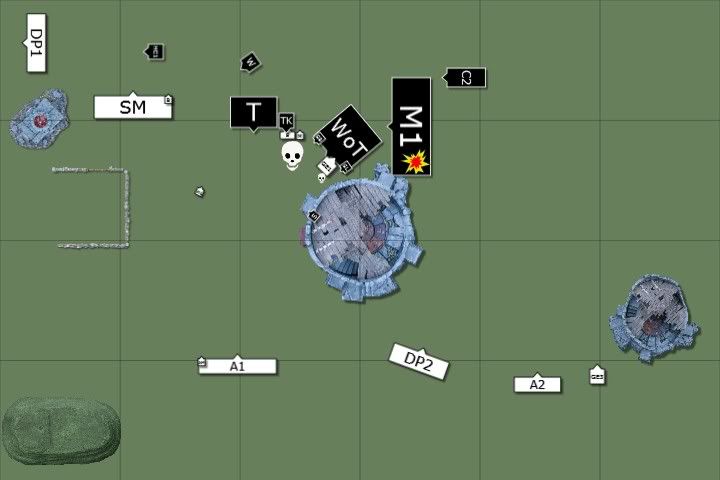 High Elf Turn 4
A pretty straightforward turn! I charged the Hellcannon (because it was right in front of me), rallied the Dragon Princes (phew, they were quite close to the table edge) and dashed the Dragon Princes forward to the chariot. For magic, I got off Throne of Vines but Flesh to Stone was promptly dispelled because I rolled quite low on it. Boo. Archers kept up the pressure on the Marauders, who were down to about 18 models now. The Swordmasters and BSB annihilated the Hellcannon and turned to face the oncoming... Well, pretty much everything was pointed right at them.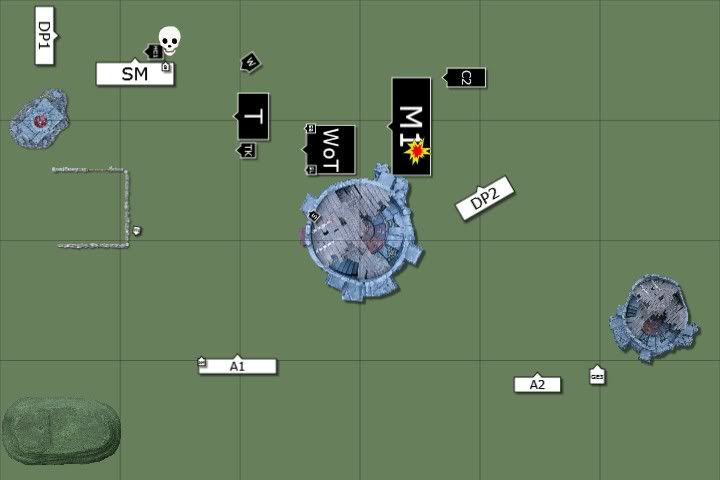 WoC Turn 4
The WoC player debated whether to send in the trolls as a first wave or wait until the Warriors could be brought up, but realized that I might be able to maneuver out of the way if he waited so he charged Throgg and company into the Swordmasters. The Tzeentch Warriors and Marauders moved up, with the Marauders reforming for greater ranks and maneuverability.
Magic fired up with 6/2 Dice with promptly became 7/7. Nice, thank you Annulian Crystal. My opponent went for Withering on the Swordmasters, but I was being wounded on a 2+ anyway by those Strength 5 trolls so let it be cast in favor of shutting down Miasma and any Gateway/Treason attempts.
In combat, my BSB proved his worth once again by finishing off Throgg, while the Swordmasters managed a damn fine 19 Wounds on the remaining Trolls, translating into three kills after Regen. By this point the three remaining trolls were pretty juiced up by Eye of the Gods rolls and managed 10 Wounds in return. I managed to score the win by a couple points, with the trolls breaking and me running them down. I opted to stop short of the Tzeentch Warriors, not wanting to tangle with those guys...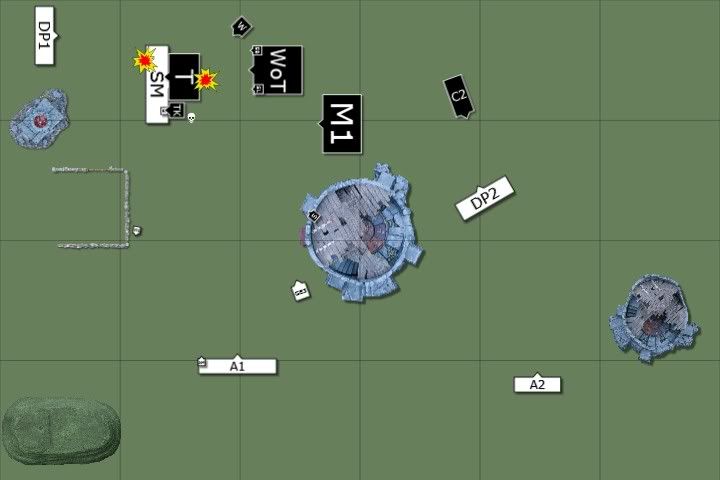 High Elf Turn 5
My opponent thought he had my Swordmasters in a bad spot, but a passed quick reform let me narrow my frontage way down and sneak them past the Warriors. The Dragon Princes charged the chariot. Magic gave me a big 12-dice phase, which I split among Throne of Vines, Regrowth on the Swordmasters to bring back 4 models, and Flesh to Stone for some Toughness 7 violence to take on the Marauders next turn. The Archers lent their usual support with a few more wounds on the Marauders.
The Dragon Princes only managed one wound on the chariot as a result of my usual quality rolls with them
, basically missing despite the re-rolls, while I lost two Dragon Princes in return. The chariot held despite my musician auto-win.
WoC Turn 5
The marauders charged into combat, not hoping for much and losing 15 of their number to the Swordmasters. Magic failed to do much once again, with Elven dispelling pulling massive weight. With my Swordmasters primed to charge the WoC Level 2 next turn and with Chaos longer able to gain much in the way of VP, my opponent conceded.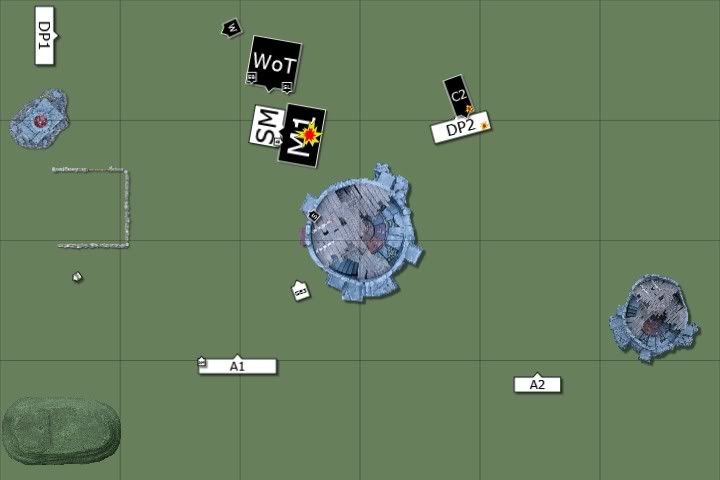 I had lost:
-Level 2 with Silver Wand, Lore of Shadow (eaten by Trolls!)
-40 Spearmen with full command (nomnomnomnom Troll snacks)
-2 Great Eagles (sacrificed for the cause)
He had lost:
-Level 2 with Mark of Tzeentch, dispel scroll (about to face a huge Swordmaster charge)
-Throgg the Troll King (impaled by Spears, head taken off by my battle standard bearer)
-40 Marauders of Khorne, fc, great weapons (pincushioned with arrows, brutalized by Swordmasters)
-5 Hounds (panicked off the table by Archer fire)
-5 Hounds (massively overkilled by Spearmen/Eagles/White Lions)
-6 Trolls (speared, slashed then run down by Swordmasters)
-6 Chaos Ogres of Tzeentch with light armor, shield (White Lion'ed, then run down by Dragon Princes)
-Chariot (taken down by my Dragon Princes and Swordmasters)
-Hellcannon (Mindrazored!)
-Hellcannon (Swordmastered!)
A win for the Asur
Unit review:
-Level 4 with Annulian Crystal, Foliarath's Robe, Lore of Life.
A-. Man, this guy's dice-dependent, but when he delivers he really delivers. The real value here is the dispel power though; my opponent never had a particularly meaningful magic phase, and +5 to dispel and the Annulian Crystal is monumental.
-Level 2 with Silver Wand, Lore of Shadow
B+. Not bad. I wasn't blessed with an overabundance of dice this game, so this guy's worth didn't shine through too much, but his clutch Mindrazor was key for dealing with that Hellcannon and softening up Throgg. He's a great backup option too, in case miscasts murder by Level 4, so I'm glad to have him.
-BSB with great weapon, Armor of Caledor, Dawnstone
A+. This guy was key at several moments, both as a fighter and for his re-rolls. As a warrior, he delivered the Coup de Grace to a chariot and to Throgg. His re-rolls were similarly key, letting me pass a number of Steadfast/Stubborn tests, Fear tests, Terror and Hellcannon-induced Panic with important re-rolls. It makes me wonder how I ever got by in 7th edition without universal Leadership re-rolls.
-40 Spearmen with full command
A-. When things went south with my White Lions failing to overrun into the Trolls, these guys were key for holding the Chaos lines in place and letting me get the rest of my blocks in place. I loved seeing them in action with Mindrazor too.
-19 Archers with musi, std, Banner of Discipline
B+. Not stellar, but a good character bunker, and they didn't die. Their pressure on the marauders all game was also useful.
-12 Archers with musi, std
Ditto as above.
-29 White Lions with fc, Skeinsliver, Banner of the Eternal Flame
B+. Their versatility is great. They took two direct Hellcannon hits, and still had enough steam left to fight through a chariot/monstrous infantry charge and stay in the fight despite heavy duty losses. Their Snake Eyes to overrun was their only real shortcoming here, but I guess that's more the dice's fault than theirs. I was glad to keep their last model alive and avoid yielding up all those VP.
-30 Swordmasters with fc, Ironcurse Icon, Banner of Sorcery
A. I wouldn't have pulled this game off without the killing power on these guys. I just wish they weren't so damn squishy.
-6 Dragon Princes with musi
-6 Dragon Princes with musi
B-. Eh... They did fine, but Warriors of Chaos are a tough matchup I think with all their ultra-durable targets and heavy duty hitting power. Strength 3 Attacks just don't cut it once their lance charge is expended, and at 30 points a model they're not exactly cheap enough to easily sacrifice. Still, they've served as good deterrents; enemies don't like being charged by cavalry with major re-rolls.
-3 Great Eagles
A+. Always important, every game. These guys make games possible, and buy me time when things go wrong. They're my very easy solution to Deathstar units, that's very hard for opponents to counter. One of them even managed to put a wound on the Exalted BSB during this game. Beautiful.