Greetings!
This battle report is a tribute to Seredain from ulthuan.net who inspired many HE players to use a cavalry prince and has a very interesting approach to HE in 8th edition. Have a look at his topic, as he had some very useful ideas which can be applied to other armies too.
Here is a link to his topic:
viewtopic.php?f=67&t=33584
Introduction
It was a test battle for me and my opponent as he played with Vampire Counts for the first time and I had an opportunity to use a 2400 version of Seredain's army list. Because of that we decided to play Battleline scenario.
My plan was to use destroy Corpse Cart with shooting, then kill Dire Wolves with either shooting or my own fast units. White Lions were to hunt down Vargulf, while Black Coach was a first target for Prince and his Knights. LSG and Swordmasters were to follow as a second line and join the battle together with fast units, which by that time should have achieved their objectives and could attack undead main battle line from all sides.
VC Army List
Vampire Lord - Forbidden Lore, Dark Acolyte, Black Periapt, Summon Ghouls, Talisman of Preservation (
Vampire Lore
)
Vampire - Ghoulkin, Infinite Hatred, The Flayed Hauberk, The Cursed Book (
Invocation
)
Wight King BSB - Banner of Barrows
Necromancer - Extra Necromancy Spell (
Invocation, Van Hels
), Dispel Scroll, Nightshroud, rides on Corpse Cart with Balefire
24 Ghouls with Ghast
24 Ghouls with Ghast
23 Ghouls with Ghast (Vampire)
5 Dire Wolves
5 Dire Wolves
30 Grave Guard, Full Command, Great Weapon, Royal Standard of Strigos (Vampire Lord, BSB)
Vargulf
Black Coach
Deployment Order: Wolves, Wolves, Ghouls, Ghouls, Ghouls, Vargulf, Grave Guard, Black Coach
HE Army List
Prince - Dragon Armour, Shield, Barded Steed, Giant Blade, Helm of Fortune, Talisman of Loec, Pidgeon Pendant
Archmage - Dispel Scroll (
Lore of Life
)
BSB - Heavy Armour, Barded Steed, Dragon Helm, Dawnstone, Amulet of Light, Great Weapon
30 Lothern Seaguard, Full Command, Gleaming Pendant
14 Archers, Light Armour, Musician, Standard
12 Swordmasters (Archmage)
10 White Lion, FC, Banner of Eternal Flame
5 Dragon Princes
1 Tiranoc Chariot
8 Silver Helms, Shields, Musician (Prince, BSB)
2 Repeater Bolt Throwers
1 Great Eagle
Deployment Order: Archers, Eagle, Chariot, RBT, LSG, Swordmasters, Dragon Princes, White Lions, Silver Helms
Archmage spells: Earth Blood, Flesh to Stone, Throne of Vines, Regrowth
Battle

Deployment
Vampires had first turn but before that all units of Ghouls moved full 8" forward.
Deployment after pre-battle movement of Ghouls thanks to Ghoulkin vampiric power
VC Turn 1
Vampire army moves forward surprisingly fast. Grey arrows indicate units movement. Yellow arrow indicates movement due to Van Hels spell

Movement:
Ghouls march move straight forward. Grave Guard, Corpse Cart and Black Coach form second line. Dire Wolves on the east move cautiously. Their brethren on the west are even more shy. Vargulf redeploys towards the centre.
Magic:
Only one spell is successfully cast. Middle unit of Ghouls moves forward another 8".
HE Turn 1
High Elves needed to act fast to counter rapid advance of Ghouls. Red arrows indicate charging units

Charges:
As the opportunity presented itself (mainly due to only one Van Hels getting through), Lothern Sea Guard charged into the flank of the central Ghouls. After a little hesitation, archers decided to join the combat. If they could win the fight by large enough margin the Ghouls could crumble completely and both could reform to face a new threat.
Movement:
On the west White Lions run forward towards Vargulf. Dragon Princes used their speed to position themselves for a flank charge against Ghouls. Great Eagle landed in front of the western unit in order to buy time for Lothern Sea Guard to finish off their enemy. Chariot positioned itself between Archers and RBT. Swordmasters and Knights moved forward as fast as possible, threatening undead flank.
Magic:
I rolled double 1 while casting Throne of Vines, the first spell, thus magic phase ended.
Shooting:
The crews of RBT's were clearly shaken by the unnatural speed of undead horde and they managed to inflict only a single wound on both, Necromancer and his Corpse Cart.
Combat:
Archers and Lothern Seaguard must have been unnerved too and both units failed their fear test. Fortunately, LSG had a Gleaming Pennant, and they past on re-roll. However, this affected the combat on Archers part and by the end of the fight 3 Gouls kept fighting (initially we forgot to test for fear and in that case Elves wiped out entire unit but fortunately we reminded ourselves about fear test before it was too late). This left LSG with exposed flank and in very dangerous situation.
VC Turn 2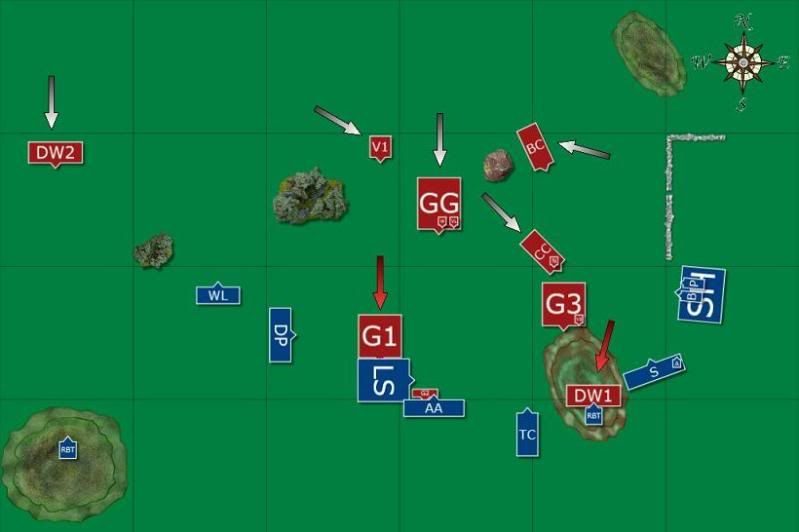 Undead press forward

Charges:
Dire Wolves on the East charge RBT. Nearby Ghouls want to attack Tiranoc Chariot but cannot make it. Ghouls on the West charge Great Eagle.
Movement:
Vargulf moved further to the centre and positioned itself at a flank of Grave Guard which moved forward too. Black Coach withdrew a little, bidding its time and draining magic for as much upgrades as possible. Corpse Cart moved behind Ghouls.
Magic:
Fortunately for Elves no spells go through (weak winds of magic combined with Black Coach dice stealing and successful dispelling)
Combat:
Dire Wolves kill entire crew but lose one of their number and overrun behind enemy lines. Nearby units pass their panic tests. Ghouls finish Great Eagle easily and attack Lothern Seaguard. In that multiple combat central unit of Ghouls is finished, Lother Seaguard kill a few pressing at them from the side. Somehow they do not lose many in that combat and remain steadfast, pass their break test and even manage to combat reform to face their new opponent. Unfortunately Archers break and flee from combat. However, it HE had a lot of luck they withstood that counterattack.
Situation on the battlefield after combat
HE Turn 2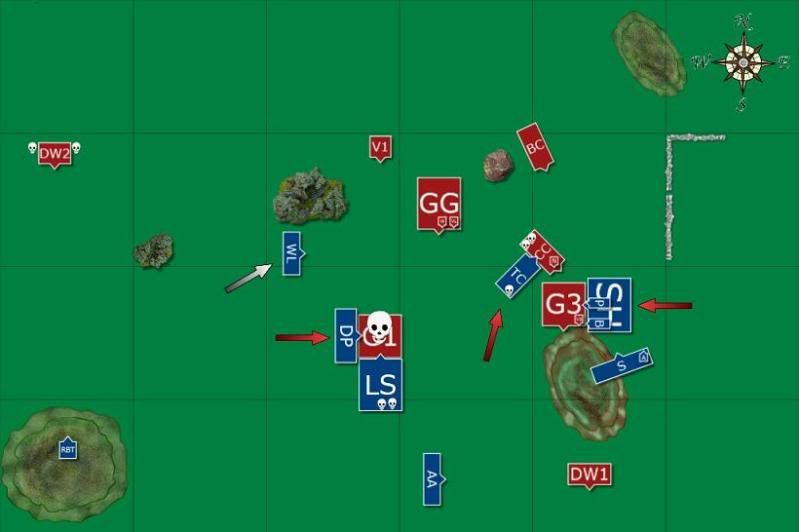 Exchange of heavy blows continues

Charges:
Dragon Princes come to the rescue for hard pressed Lothern Seaguard. Tiranoc Chariot spotted Corpse Cart and charged to destroy it. Prince gave command for his Knights and a thundering charge hit home to the flank of Ghouls. Unfortunatley Swordmasters didn't join that charge (I rolled 1 and 2 for a charge distance when I needed 5).
Movement:
White Lions moved towards the centre and behind the woods, ready to charge Vargulf as soon as it shows up. Archers rallied and formed so that they could shoot at Dire Wolves.
Magic:
Again magic was uneventful.
Shooting:
RBT on the West aimed at approaching Direwolves and killed two.
Combat:
Dragon Princes and Lothern Seaguard kill many Ghouls and win combat by large margin but not large enough to wipe them out. On the East Vampire shouts a challenge and noble HE battle standard bearer accepts. Evil Vampire reads unholy verses from his cursed book but he is still wounded by elven warrior. Vampire cannot strike hard enough to break through fine elven armour. The Prince and his Knights inflict horrendous damage but again not enough to completely destroy the enemy and 3 Ghouls keep fighting. Tiranoc Chariot manages to inflict only single wound on Corpse Cart (damn regeneration!) and due to proximity of undead BSB, necromancer survives combat. Again elven warriors need to brace for impact as enemy elites are going to join the fight.
Situation after combat
VC Turn 3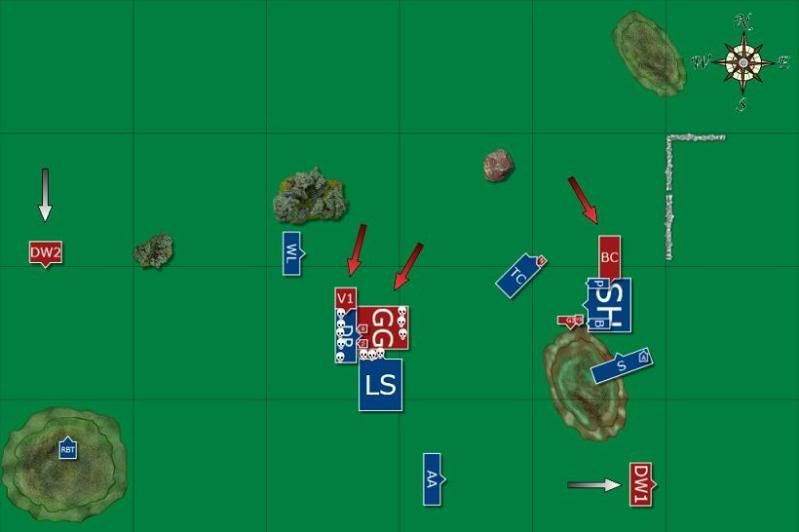 Another countercharge of the undead. Will they break Elves this time?

Charges:
Vampire Lord had a difficult decision to make. Should he attack Tiranoc Chariot and then overrun into Elven Knights? Or maybe he should attack weaker units on the West, break them and turn back to finish the rest of HE army? He decided to charge Dragon Princes in the end, together with Vargulf, while Black Coach, now fully upgraded, charged the flank of the Knights.
Movement:
Only wolves didn't fight and while one unit tried to avoid Archers, the other one moved towards RBT.
Magic:
Again HE Archmage proved his worth by dispelling Van Hels two times in a row. A third attempt to cast a spell failed and magic phase ended.
Combat:
Dragon Princes fought hard to inflict as many casualties as possible, killed three Grave Guard but all of them died in the end. Lotern Saeguard finished off remaining Ghouls but it was not enough and they fled from combat. Grave Guard and Vargulf overrun. White Lions could not withstand the sight of butchered heavy cavalry and panicked. In the meantime, Black Coach hit hard (6+1 impact hits) but only single Knight fell (very unlucky for undead player to roll three 1's for to wound roll). Prince moved to the side to aid his warriors, inflicted two wounds but both were saved due to ward save. No further Knights were killed in that combat. What is more, Elven BSB killed his Vampire opponent in a challenge and 3 Ghouls were also destroyed. In the end elves won combat decisively and even Black Coach crumbled to dust. Tiranoc Chariot finishes off Necromancer easily. Another very lucky outcome for Elves.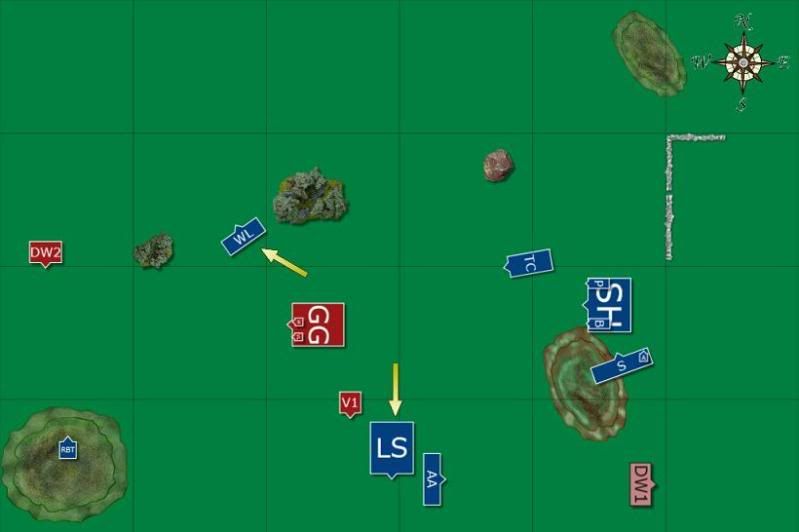 Situation after the combat. Yellow arrows indicate fleeing units.
HE Turn 3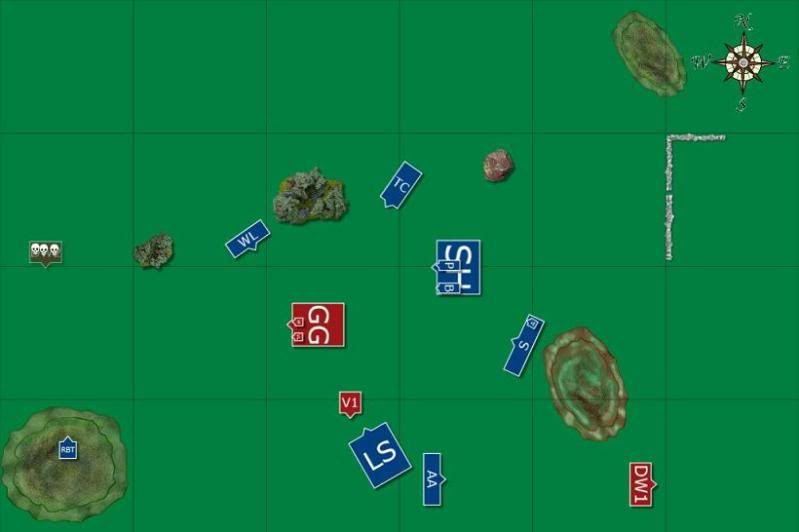 HE redress their ranks, rally troops and prepare to face still dangerous units of Vampire Lord.

Movement:
A little break in combat. Grave Guard was too far away to risk a charge, so Prince ordered his troops to position themselves for a combined charge next turn. White Lions rallied and faced Grave Guard while Lothern Seaguard turned and leveled their spears to fight off rampaging Vargulf.
Magic:
Still nothing.
Shooting:
RBT finished off remaining Dire Wolves. Arches completely fail to wound even a single Dire Wolf.
VC Turn 4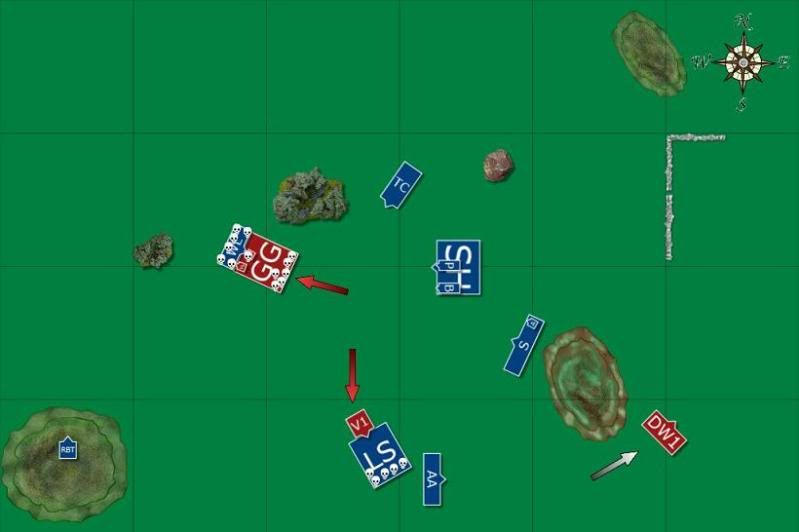 Undead keep fighting. Will they break from the encirclement or maybe White Lions hold them long enough for the Cavalry to join the fight?

Charges:
With nothing to lose Vampire Lord orders his minions to attack. He himself leads the charge on White Lions, while Vargulf attacks Lothern Seaguard.
Magic:
Yet again Vampire Lord cannot summon enough power to break through magical defenses woven by HE Archmage.
Combat:
Ferocious fight erupts. White Lions fight like heroes. They kill Wight King and no less than 6 Grave Guard. But cursed Wight blades rise again and it seems that brave White Lions are going to die. And then a miracle happens! Three of them, full command group manages to survive the combat and they pass their stubborn break test! (it was extremely unlucky for Grave Guard, as they rolled five 1's on to wound roll). Vargulf killed a bunch of LSG but they were steadfast and stood their ground.
White Lions held and it means that elven Knights are going to hit the rear of Grave Guard next turn!
HE Turn 4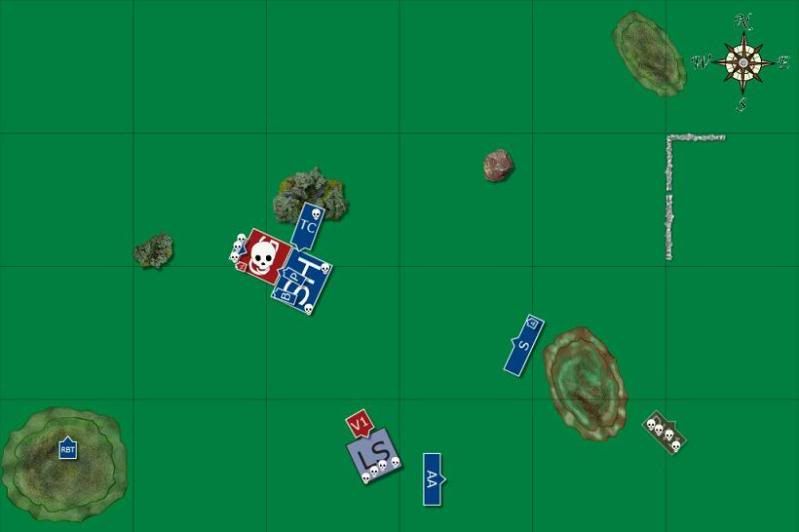 Is it the end of Vampire Lord?

Charges:
Prince and his Knights do not waste more time and charge Grave Guard from the rear. Tiranoc Chariot joins the fight and passes its Dangerous Terrain test.
Movement:
Swordmasters position themselves for a flank attact on Vargulf.
Magic:
Finally Archmage can cast some spells. Throne of Vines is followed by Flesh to Stone on White Lions but resurrection of the fallen Knight is dispelled by Vampire Lord.
Combat:
The fight is again bloody. HE Knights, Chariot and remaining White Lions manage to kill 15 Grave Guard! Unfortunately brave White Lions are killed to the last nevertheless. In the end, however, Vampire Lord loses combat by such a great margin he and his undead elite warriors crumble to dust. Vargulf manages to kill some more Lothern Seaguard but they still hold. At this point the game is over and High Elves emerge victorious.
After-battle Comments
I believe I had a lot of luck in this game. Crucial moments for me where:
1. Failing fear tests with LSG and Archers - failed to wipe out Ghouls in single combat and endangered LSG.
2. Not running away from Ghouls with LSG - had I lost 3 more elves there would be no steadfast.
3. Winning against Black Coach despite its 7 impact hits - it could hold me there long enough for Grave Guard to destroy my other flank.
4. Stopping Grave Guard with White Lions - that was extremely lucky. I simply wanted to thin them down with high strength attacks and kill his BSB. Instead I managed to pin him down and finish him off next round.
I think Vampires are still very dangerous army and this battle was definitely not one-sided as the final outcome might suggest. I made a few mistakes (like landing Great Eagle in front of Ghouls, it didn't buy me time at all! Needless sacrifice). I was also a little disappointed with my magic, I barely cast any spells. But the Archmage did great in terms of dispelling spells so I do not complain that much.
I really like the way this particular HE army works. It has to be used carefully but when things works it can be dangerous too. I am definitely going to use it more. I hear that the Vampire Lord was not really dead and that he is planning a revenge
Thanks for reading!