Hello Ulthuan, and welcome to my painting log
I started my high elves about a year ago, coming back to the hobby after an 8 year hiatus which somehow improved my painting skills despite doing almost no art during those 8 years. Strange, but I'm not complaining.
I decided to enter a monthly painting competition at my local GW, and actually did surprisingly well, so I decided to share the rest of my elves here.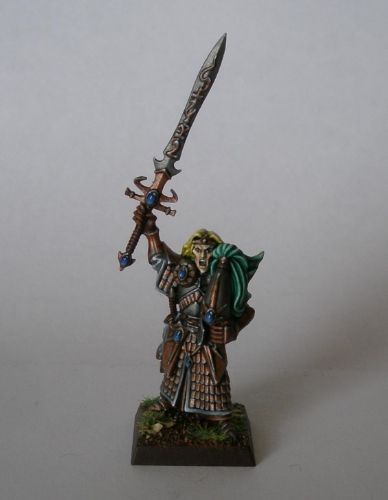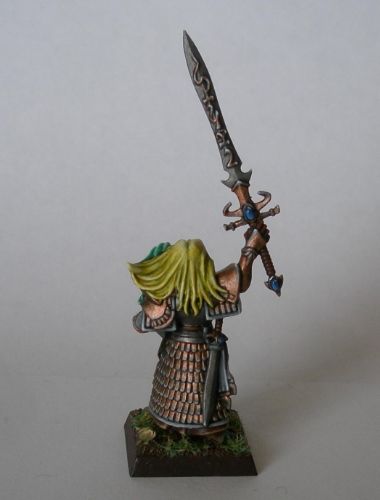 This is the model I entered. It's also the only model in my army that's fully based and varnished, and is probably the best thing I've painted to date. I still have a long way to go, but I'm happy with what I can do now.
My archers. These may look suspiciously like Wood Elf archers, but they're actually High Elves. (Mainly because the models are SO much better) I also decided that I'd try to make my army Averlorn themed, mainly so that I could use green. At first I was working around the old Goblin Green (which is about the most intense mid-tone green you've seen) and it took me far too long to realise that it was actually not very nice. I'm currently in the process of repainting to a much nicer sea green. You can see the difference here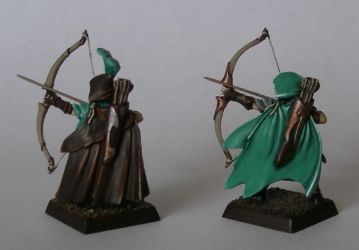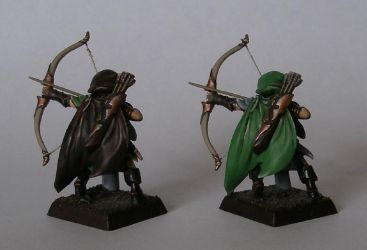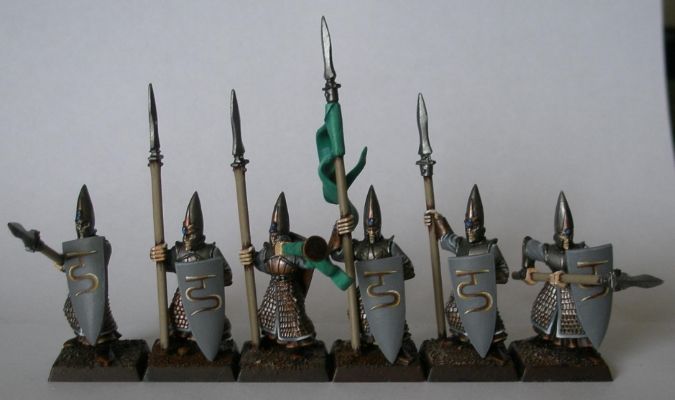 My spearmen. I don't really like the embossed designs for the shields, so I first tried making a green stuff mould to make the entire process easier, but that wasn't so successful; so I bit the bullet and went for freehanding.
Scratchbuilt Sword Masters! They're spearmen legs/bodies/heads, with sculpted arms/plumes, and swords from plasticard/old credit cards. I like the one on the right. He's going through an existential crisis: "if a Sword Master doesn't have a sword, is he still a Sword Master?"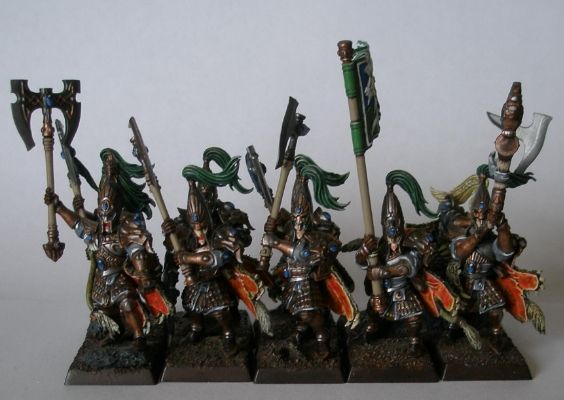 Two mages. The one on the left is a converted Reaper miniature. The one on the right is a converted WE archer. Yes that is a purple fireball. No I don't know why purple.
Now for the fun part, unit fillers! I probably spend far too much time converting these, but I like what they can add to an army.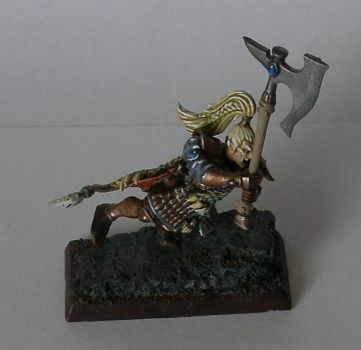 Making pastries is a great way to relieve the stress of battle.
This one is so unconcerned he's painting when he should be fighting. Internet cookies to whoever can name the painting.
What I'm working on at the moment: I'm updating the green across my entire army, (urgh) and I've decided to make a solid try to win next month's local painting competition, so I'm working on a mounted Prince. (And deciding if it's worth trying to de-Caledorize it)
Hope you enjoy the pictures. More will come eventually.