Hi everyone and welcome to my plog. Seeing as everyone and their mother had one I decided it was my turn to start a plog but if you choose to follow it, please don't expect an army to take form in no time – I am a notoriously slow painter. This basically comes down to a level of perfectionism bordering on the compulsive - even back rank RnF troops get painted to the best of my current ability
.
Now that's said let's hear a little about me and my history with the hobby. I live in Denmark with my fiancée and our son of 11 months. I started painting about 15 months ago when I bought a mega paint set with all of the old range of paints and a box of Chaos Warriors, but with a kid about to come and not wanting to spend his first months anywhere but with him I never got around to start until 9 months ago. Before that I had read most of the articles that now appears to be gone from GW's website and I was itching to get to work (I painted model ships when I was a kid but always envied those that could paint something that looked "real"). So I sat down and began to test the techniques I had read about.
I quickly found myself bored with painting plate and horns and got attracted to High Elves instead, so next up was a box of spearmen to test a paint scheme. I found I liked Ultramarines Blue a lot more than Enchanted Blue and even though I liked the classic blue/white scheme I was frightened half to death by the prospects of painting and shading white clothes, so I decided to try a "reverse classical" scheme – blue clothes and white trim. After only one test model I had the outlines of the scheme I have used for everything since – it looked exactly how I wanted. Since then I have begun to add a few red details as spot color as I found it really made the blue and white pop.
For the last half a year I have been a following these forums and swelled in the fantastic amounts of inspiration to be found here. I have also jumped right on the monthly painting challenge wagon and found it really drives me forward.
At the moment I only really play with my cousin who started an Empire army at the same time, but I do hope to get a little more serious with the gaming part of the hobby as well in the future. For my first real army I am aiming for a personalized version of Seredains Cavalry list made from the models I have and like the looks/rules of. My target so far will be the following:
Mounted Prince
Mounted BSB
Mage
30 Spears
30 Archers
14 SM's
14 WL's
8 DP's (might be used as Silver Helms)
Lion Chariot
2 Eagles
2 RBT's
Below you can see some pics of the units I have painted so far. Please feel free to comment if the pics are too close or if you like further close ups.
Armyshot of what I have so far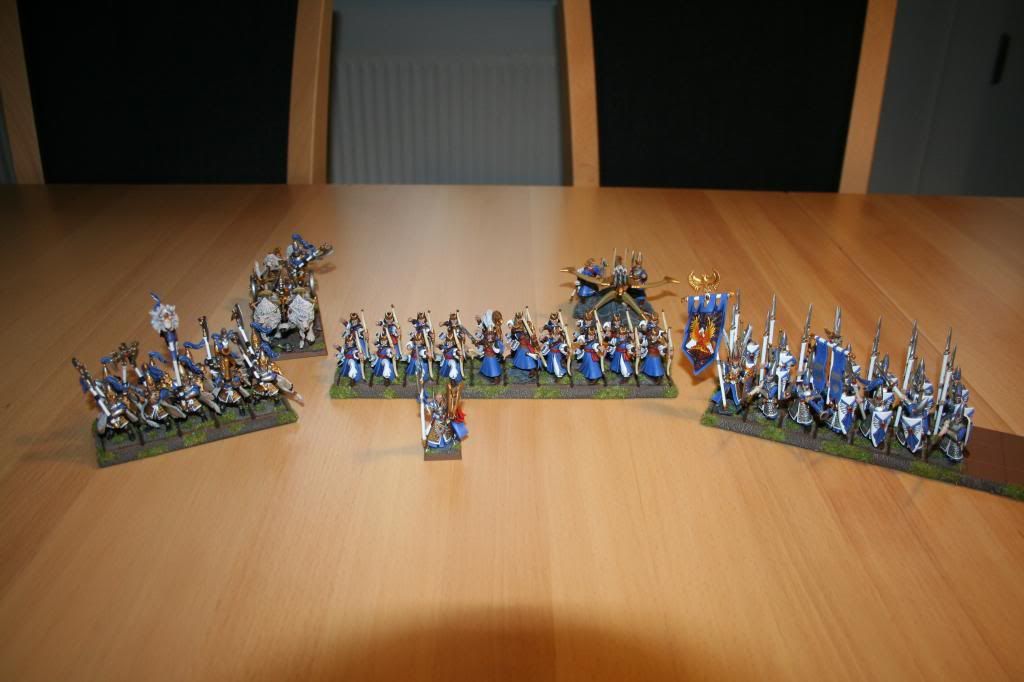 My first attempt at painting. A unit of spears with BSB
Close up of the BSB - yeah faces need practicing. He looks a little old and grumpy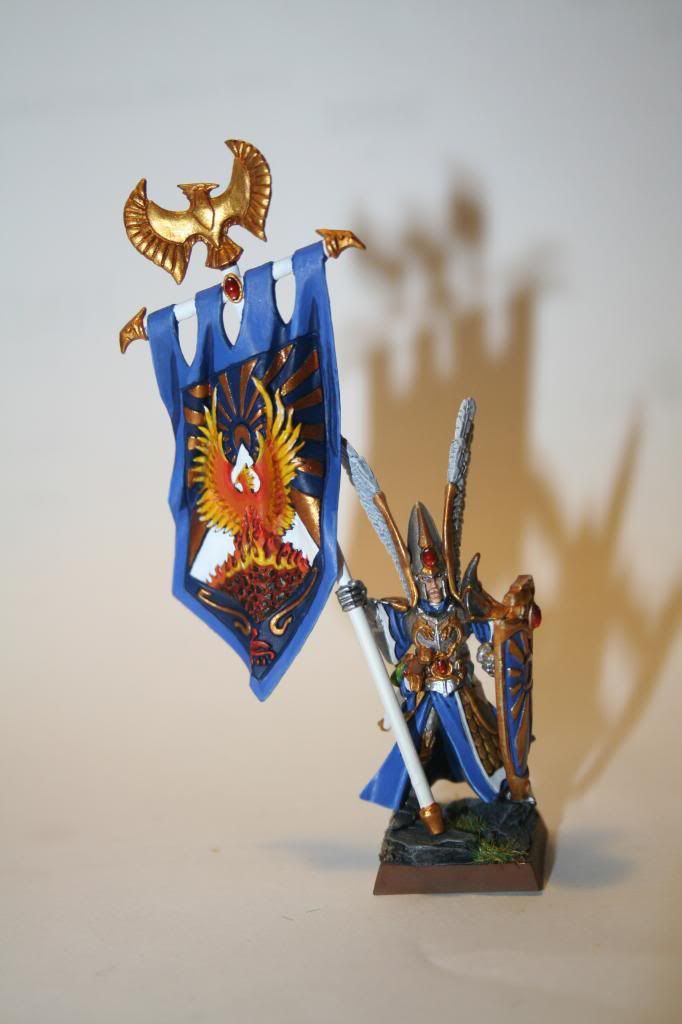 Next up was a Lion Chariot. Was really proud of this one. First model with basing aswell.
After these first models I managed to get a steady flow of models finished.
Bolt thrower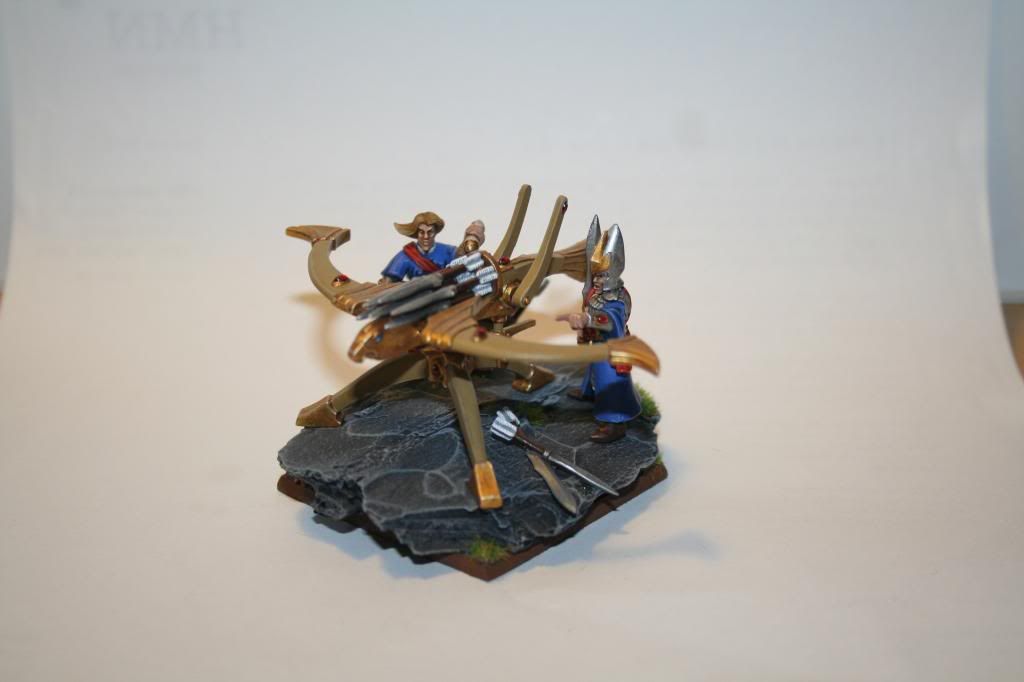 Archers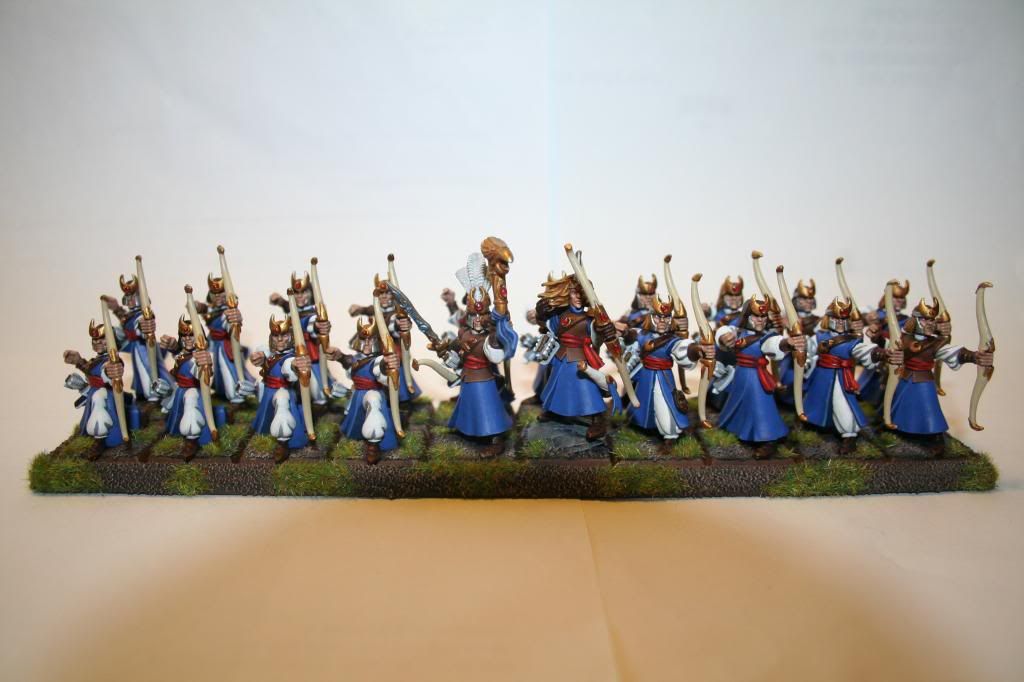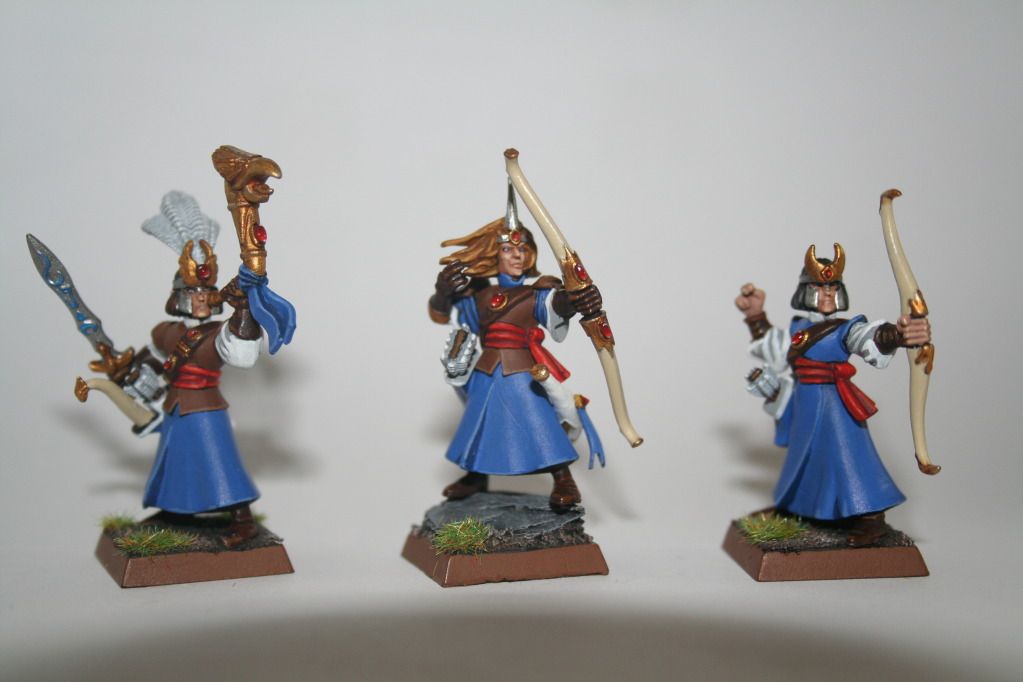 White Lions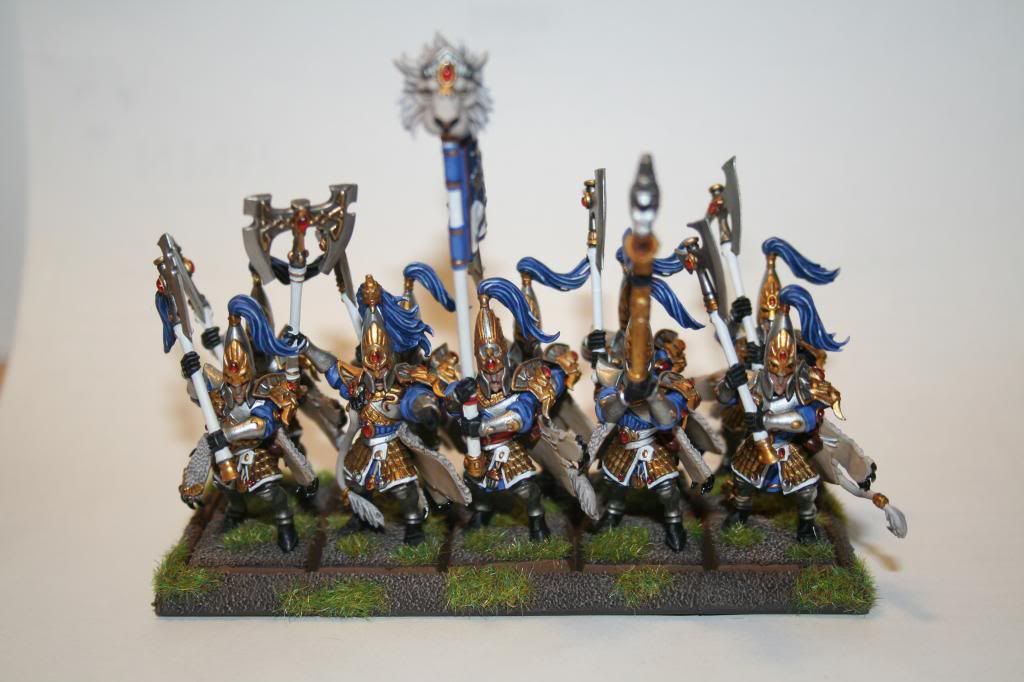 And of cause a model to represent my general on foot in our first small point games.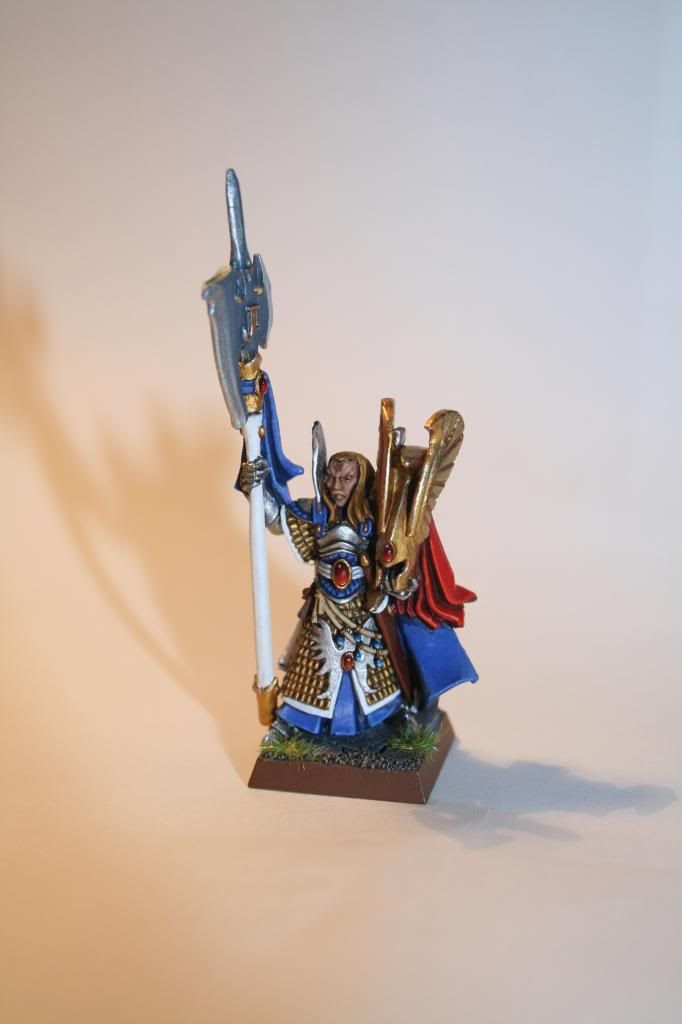 At the moment I am working on a unit of Dragon Princes (test model below)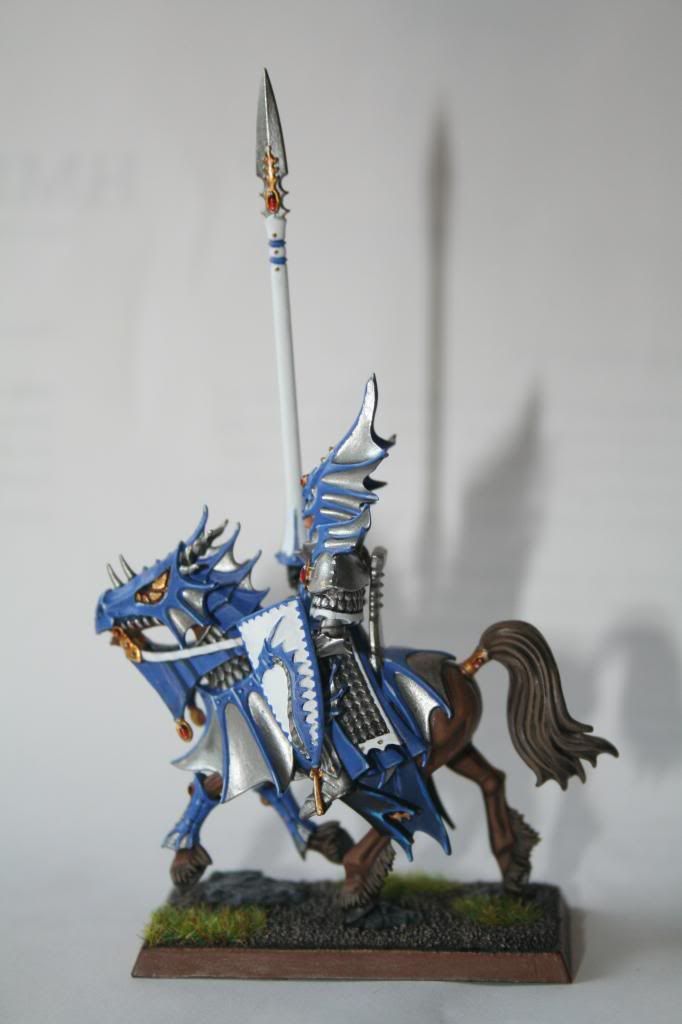 Anyway feel free to comment on anything now or as the plog expands. I need the critique to improve.
/Nyeave