Well i decided since two of my housemates are both very much into warhammer that i should give it a go, when i was a lot younger i had a go, but my attention span was not what was required back then. Now i have a much greater drive for it, and hope to eventually build up a descent enough army to play competitively.
So to keep up my momentum for painting over the summer ive decided this should be the best way to keep me going, without losing any drive for the painting. to get myself started i bought the starter box and some mages, so i have:
16 archers
16 spearmen
8 silverhelms
1 RBT
2 mages
considering im not the fastest painter this should keep me busy the whole summer i think.
to start with i decided to go with the theme on the box, which seems to be the common one (blue/white) so gave it a go and resulted in this, which i thought was ok for my first go in about 8 years: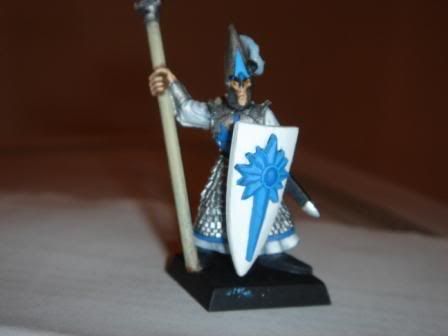 I realised i could probably put a bit more effort in and get a better result so tried again and got to this quality: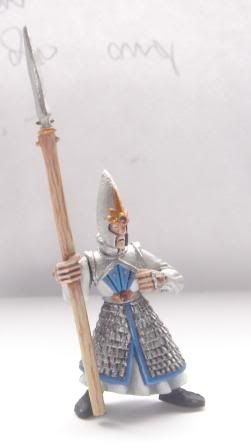 There is no shield on the newer one as im now undecided on how to do them yet
After all that effort i then decided that i dont reallycare for that colour scheme as it appears a bit bland and dull, and there is just no vibrancy to it. So ive decided to bring in more gold, on which im attempting to use the NMM effect for the gold as much as i can, and then purple instead of the whites, and so far with this model im extremely happy with the results.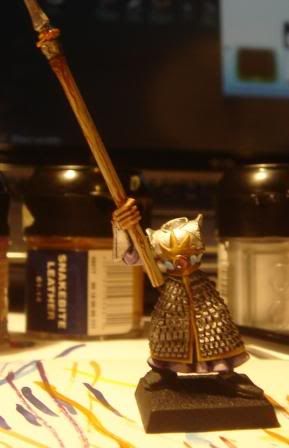 i havent worked out how to take a good photo yet so the purple doesnt seem very obvious, hopefully i can finish the rest of this model which is to be the standard bearer tomorrow.
all C&C appreciated
_________________
If your interested in some commission work
Take a look at my Painting blog.
If your interested in learning some techniques
Take a look at my Tutorials blog.